Miley Cyrus Recalls Experimenting With Drugs During Fan-Favorite Album Era
By Regina Star
December 4, 2020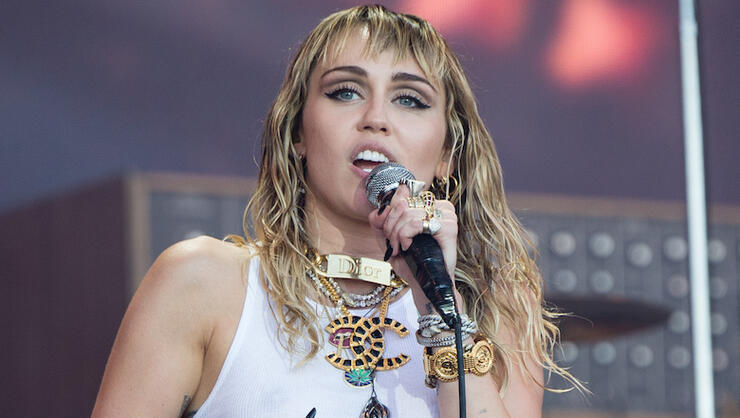 Miley Cyrus is speaking openly about her struggles with sobriety and its impact on her music and creativity.
On Friday (December 4), the singer-songwriter Rolling Stone magazine unveiled Cyrus as the cover star for its upcoming January 2021 issue. In the feature, the "Midnight Sky" singer gave some candid insight about the songs on her new album, Plastic Hearts, her broken marriage to Liam Hemsworth, and revealed which of her music eras made her feel most unstable. 
The 28-year-old, who recently admitted to relapsing months after celebrating her sixth month of sobriety earlier this year, spoke in-depth about her journey.
At one point during the interview, Cyrus revealed that — contrary to bizarre media-fueled theories — she was not sober during her Younger Now era.
"A couple of years ago, it looked like I was living some fairy tale. It really wasn't. At that time, my experimentation with drugs and booze and the circle of people around me was not fulfilling or sustainable or ever going to get me to my fullest potential and purpose…there's an idea that during the Younger Now era, I was pure," Cyrus told the outlet.
She continued, "The media likes to have my hair or what I look like be the point of reference for my sanity. 'Hair's long and blond, she's sane right now. She cannot be f—ked up on drugs. It's when her hair is painted or she's growing out her armpit hair [that] she's on drugs."
Looking back, Cyrus says she was "way more off my path at that time than any of the times before where my sanity was being questioned."
"I don't like ever saying anything in a very solid concrete way, but right now I have been focusing on sobriety as I wanted to wake up 100 percent, 100 percent of the time," the musician added. "If I've ever learned to balance myself and to not take it too far, I would. But so far any time I've messed with that, it hasn't gotten me what I want."