WATCH: Bama Receivers Asked To Choose Between Mac Jones, Tua Tagovailoa
By Jason Hall
March 4, 2021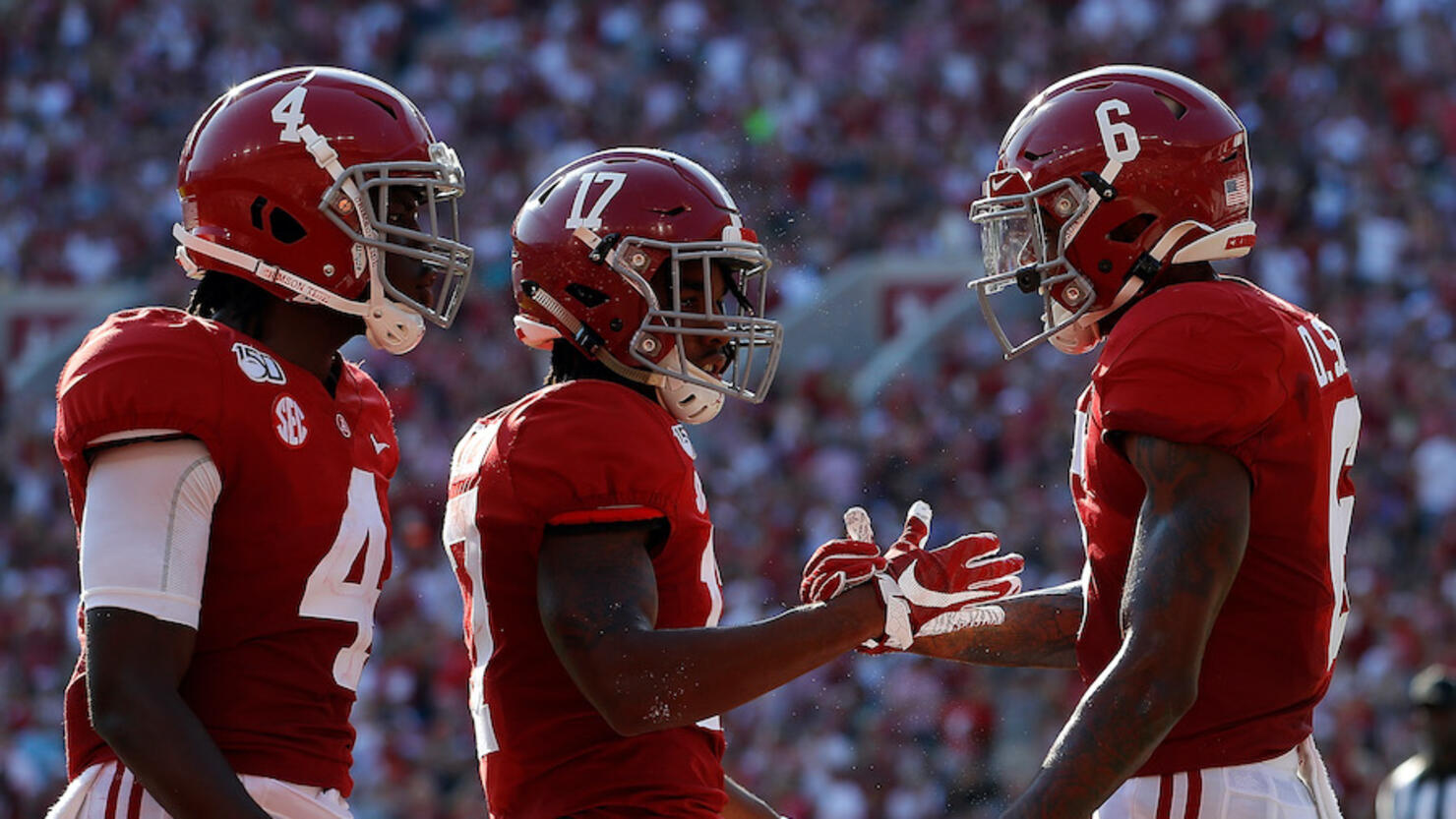 The Alabama Crimson Tide have had rosters loaded with talent throughout Nick Saban's legendary tenure.
Naturally, that leads sports pundits and fans to debate which player was the best at each position.
During the Senior Bowl in January, Heisman Trophy winner and former Alabama wide receiver DeVonta Smith was reportedly asked to choose between quarterbacks and former teammates Tua Tagovailoa and Mac Jones, Sports Illustrated's Albert Breer revealed in a recent edition of 'Monday Morning Quarterback.'
"The question was barely finished before Smith answered: 'Mac Jones,'" Breer wrote. "He was bold and definitive about it, as I heard it. And of course, it's logical to some degree."
Tagovailoa started for the Tide during Smith's sophomore and junior seasons, and also connecting with the then-freshman wide receiver on the game-winning touchdown pass in the 2018 College Football Playoff National Championship Game after taking over for former starter Jalen Hurts in the third quarter.
But Smith's Heisman Winning season took place in 2020, after Jones, a redshirt junior, took over as the Crimson Tide's starter in the absence of Tagovailoa, who was selected by the Miami Dolphins at No. 5 overall in the 2020 NFL Draft last April.
Former teammate Jaylen Waddle also seems to have a preference for Jones, despite having his most productive season playing alongside Tagovailoa as a freshman.
"I like Mac Jones," Waddle said when asked by Andrew Siciliano to chose between the two Tide quarterbacks. "Both are great quarterbacks. I love Mac. He was a guy I came in with from Day 1. We were on the third team together and worked our way up."
Smith won national championships alongside Tagovailoa in 2017 and Jones in 2020, while Waddle's only national title game with Jones this past season.
Normally the two receiver's answers wouldn't be worth over-analyzing, but they do come as reports indicate the Dolphins may not be sold on Tagovailoa as their franchise quarterback, despite the quarterback having only made nine starts and holding a winning (6-3) record during his rookie season.
The former Alabama standout has been mentioned in several trade scenarios and split time with veteran Ryan Fitzpatrick, even after taking over as Miami's starter last season.
Still, the comparison between the two national championship winning quarterbacks is a testament to Alabama's dominant recruiting success during the Saban era.
Smith, Waddle and Jones are all among the prospects for the upcoming 2021 NFL Draft, which will be held in Cleveland, Ohio from April 29-May 1.
Photo: Getty Images