Viral Photo Of Bill Belichick At Pro Day Sparks More Trade Speculation
By Jason Hall
March 30, 2021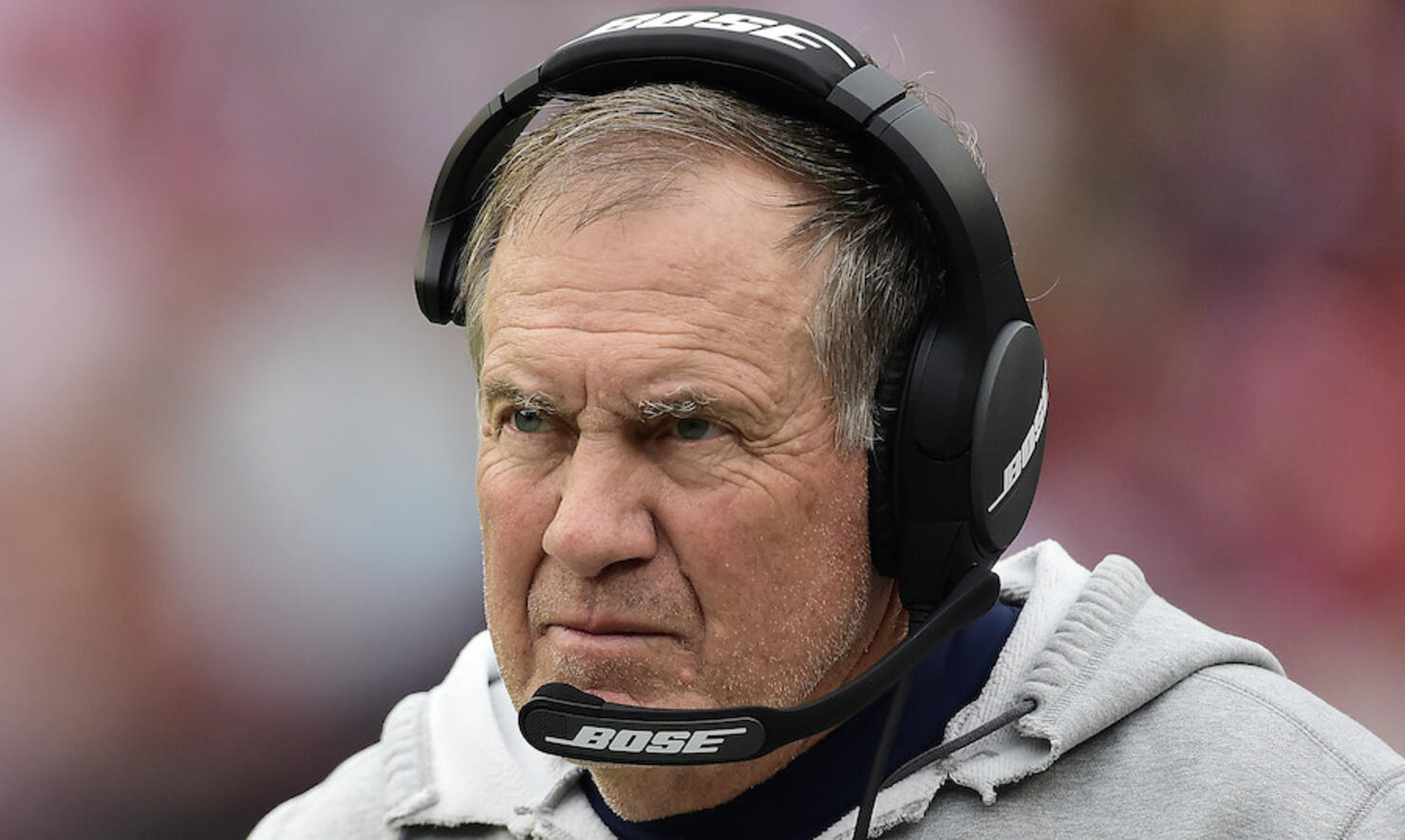 New England Patriots head coach Bill Belichick attended Alabama's Pro Day on Tuesday (March 30), which usually wouldn't be much cause for speculation given his longstanding friendship with Alabama coach Nick Saban -- who previously worked as his defensive coordinator -- and the reigning national champions have numerous former players expected to be top draft prospects.
However, a photo of Belichick standing alongside San Francisco 49ers coach Kyle Shanahan and general manager John Lynch amid reported interest in re-acquiring former Patriots and current 49ers quarterback Jimmy Garoppolo sparked plenty of interest on social media.
NFL reporter Dov Kleiman shared the photo on social media and hinted at the possibility that the trio could have been discussing a move involving Garoppolo.
Bill Belichick, John Lynch, Kyle Shanahan and Josh McDaniels.

What could they possibly be talking about? [hint, it could be that quarterback they're about to replace that used to play for the Patriots] pic.twitter.com/KLR1UIYbh5

— Dov Kleiman (@NFL_DovKleiman) March 30, 2021
"What could they possibly be talking about? [hint, it could be that quarterback they're about to replace that used to play for the Patriots]," Kleiman tweeted.
The 49ers' blockbuster trade with the Miami Dolphins on Friday (March 26) is believed to have "major ramifications" in the NFL quarterback market, despite the team claiming it's keen on keeping Garoppolo on its roster.
That may heighten reports of the New England Patriots trying to re-acquire the veteran quarterback.
ESPN's Dianna Russini reported the Patriots are still "sniffing out" a trade with the 49ers during an appearance on 'Get Up!' on Thursday.
"Just recently I was talking to somebody in the league who I really trust," Russini said. "He's got good information. He said, 'Do not take the Jimmy Garoppolo trade off the table.' That is something New England is still sniffing out. Bill doesn't like to put his cards out on the table so most think if we all know about that it probably won't happen, but there is definitely a tone in the league that it could still go down."
ESPN's Adam Schefter reports the 49ers received the No. 3 overall pick in the upcoming 2021 NFL Draft from the Dolphins in exchange for the No. 12 pick, a 2022 third-round pick -- which San Francisco received as a comp pick for the Jets' hiring of former assistant Robert Saleh -- and first-round picks in the 2022 and 2023 draft, sources confirmed.
Filed to ESPN: Dolphins trading No. 3 overall pick to the San Francisco 49ers for the No. 12 pick, a 2021 third-round pick (SF's comp pick for Robert Saleh hiring) and first-round picks in 2022 and 2023, per sources.

Blockbuster deal with massive ramifications for years to come. pic.twitter.com/nRLMUaWGo5

— Adam Schefter (@AdamSchefter) March 26, 2021
Update: The third-round pick that Miami is getting from San Francisco actually is in 2022, per source.

— Adam Schefter (@AdamSchefter) March 26, 2021
"The next month of the NFL off-season now has been turned upside down. And the rush for QBs officially is on," Schefter tweeted.
Miami then sent the No. 12 pick acquired in the San Francisco trade and a 2022 first-round pick to the Philadelphia Eagles in exchange for the No. 6 overall pick in the upcoming draft.
Schefter reports the 49ers are "now square in the QB mix" and "traded up because they're good with the options that will be" at the top of the draft, "but are holding on to Jimmy Garoppolo and have no plans to trade him, per sources."
NFL Network's Steve Wyche reports 49ers general manager John Lynch told Garoppolo, "Yes we decided to go ahead and do this, once it was finalized the first thing we did was call Jimmy Garoppolo to let him know he's still in our plans," via Kleiman.
But teams have publicly endorsed incumbent starters amid big transactions involving others in the past only to later deal them elsewhere.
Earlier this month, NFL Insider Greg A. Bedard said on his podcast this week that re-acquiring Garoppolo was "Plan A" for New England's quarterback situation, prior to the team re-signing Cam Newton.
"From what I gather from talking to people this week, over the past week, Jimmy Garoppolo is still far and away their Plan A," Bedard said. "That if they had to draw it up exactly, the optimal situation for the Patriots for this coming season, is Jimmy G. coming back here."
Garoppolo was selected by the Patriots in the second-round of the 2014 NFL Draft and spent the majority of his tenure in New England as the backup to former Patriots and current Tampa Bay Buccaneers quarterback Tom Brady, starting just two games while Brady served a four-game suspension in 2017.
Garoppolo was traded to the 49ers on October 31, 2017, and lead San Francisco to a 5-0 record as a starter during his first season. The Niners then signed Garoppolo to a five-year, $137.5 million contract, securing his place as their franchise quarterback.
After experiencing a torn ALC during his third game, Garoppolo missed the majority of the 2018 season, but bounced back in 2019, helping the Niners win the NFC Championship en route to a Super Bowl loss to the Kansas City Chiefs.
But injuries once again plagued Garoppolo in 2020 and, with a hefty amount of money remaining on his deal, many expect the Niners could trade the quarterback this offseason.
It's also worth noting that Shanahan and Lynch could have been at Alabama's Pro Day to scout quarterback Mac Jones, who is quickly ascend as a top prospect in the upcoming NFL Draft.
NBC Sports analyst and former NFL quarterback Chris Simms believes Jones may now be targeted by the San Francisco 49ers, who hold the No. 3 overall pick in next month's draft, after acquiring it in a blockbuster trade with the Miami Dolphins on Friday (March 26.)
"49ers-Dolphins...[head coach] Kyle Shanahan trying to control his own fate. You trade up to 3 for a QB who is NFL-ready right now, not a project. And to me that says Mac Jones," Simms tweeted following the announcement of the trade Friday afternoon.
It's also worth noting that Simms and Shanahan are close friends dating back to their collegiate careers at the University of Texas.
Photo: Getty Images