Welcome To #Brittsburgh
By Jason Hall
August 17, 2021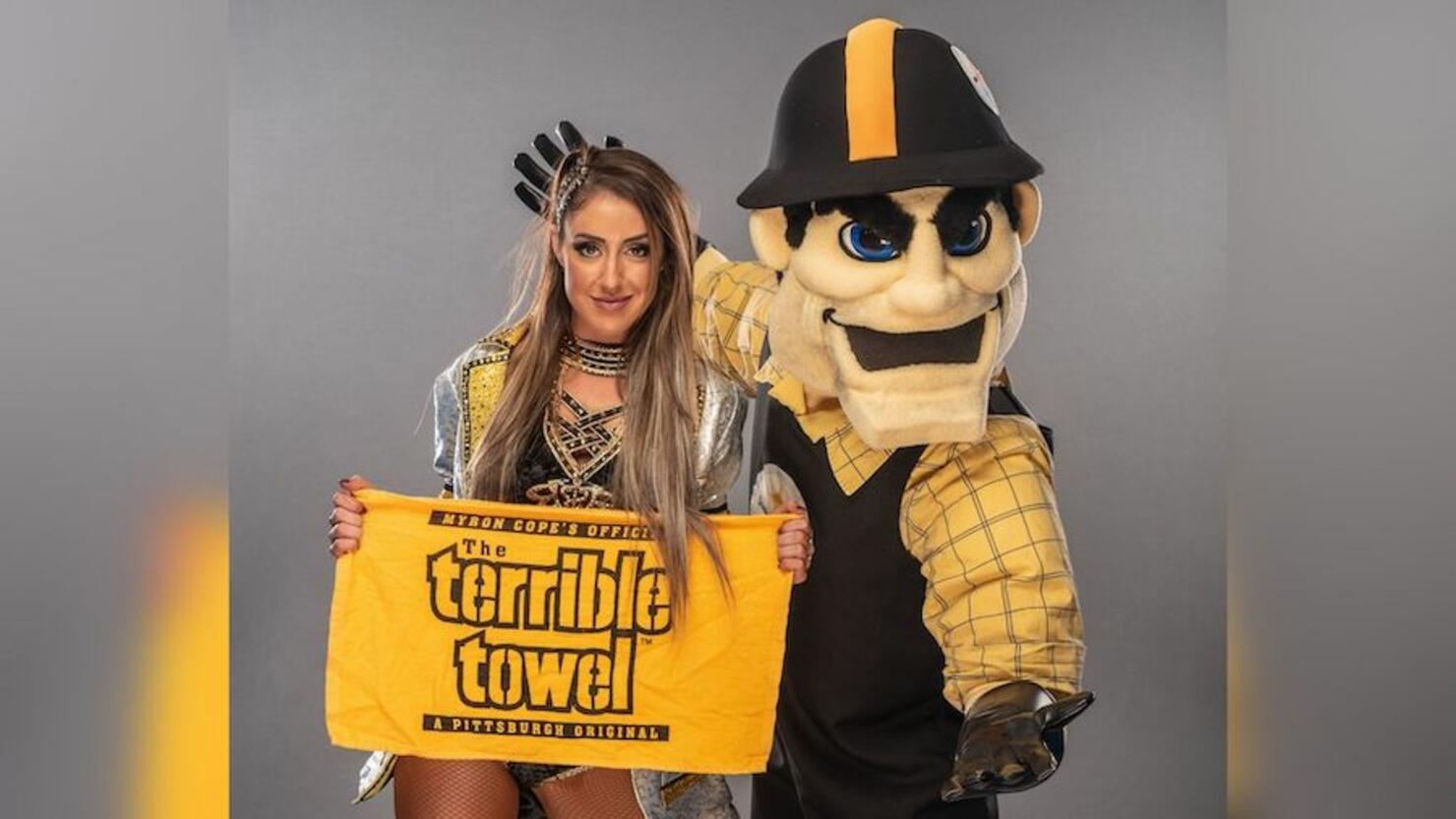 Photo: Courtesy of All Elite Wrestling
All Elite Wrestling Women's Champion Dr. Britt Baker, D.M.D. represented well in her return to her hometown last week.
The Punxsutawney native retained her title by defeating Red Velvet during the debut episode of Rampage last Friday (August 13) and was greeted with a hero's welcome by the crowd in attendance at Petersen Events Center during the match and a previous in-ring appearance during Dynamite two nights prior.
In both appearances, Baker wore Pittsburgh inspired jackets, a primary black and secondary gold and white on Dynamite and a primary white and secondary gold and black during her title defense.
Both jackets featured the letters "DMD" -- referencing the real life dentist's medical degree earned at the University of Pittsburgh -- and the Steel City's skyline on the back, as well as Pittsburgh Steelers, Pittsburgh Pirates and Pittsburgh Penguins logos featured prominently.
Baker asked fans to choose their favorite on her verified Twitter account Tuesday (August 17) morning.
"Which #Pittsburgh jacket did you love more? I still can't decide," Baker posted along with four photos of herself wearing the two jackets.
During both appearances, fans at the Petersen Events Center showered the hometown favorite with cheers, "D.M.D." chants and -- as requested -- waved Terrible Towels.
"I wasn't afraid to step up when this city needed a champion," Baker said, leading to 'D.M.D.' chants and towel waving from the crowd in attendance during her promo on Dynamite. "And I bleed black and gold just as much as anybody in here, but we can all admit, this has been a difficult year for us. So Pittsburgh, Pennsylvania, I present to you, hope."
Baker recently returned to Western Pennsylvania during an appearance at Steel City Con in June and returned to the event over the weekend.
The initial Steel City Con appearance came weeks after the real life dentist/professional wrestler defeated Hikaru Shida via submission to win the AEW Women's World Championship during the promotion's Double or Nothing pay-per-view on May 30, her first championship in a major wrestling promotion.
After the match, Baker, an avid Pittsburgh sports fan, said she was proud to take on the role of the "face of Pittsburgh" amid a "brutal" year.
Earlier this year, Baker gained praise throughout the wrestling community for her groundbreaking 'Lights Out' hardcore match against Thunder Rosa, which was the first women's wrestling match to main event a televised AEW show since the company launched in 2019.
Baker was defeated by Rosa, but was trending on social media throughout the night after fans and wrestlers alike praised her performance, which included having her head busted open and taking rough bumps throughout the match, which included, in some instances, landing on thumb tacks.
Baker, who graduated from the University of Pittsburgh School of Dental Medicine in 2014, has stayed true to her Western Pennsylvania roots throughout her professional wrestling career.
During AEW's first live show in Pittsburgh, billed as "Brittsburgh," Baker was accompanied to the ring by Steelers mascot Steely McBeam and led the crowd at Petersen Events Center in waving Terrible Towels during her entrance.
Baker also appeared in the Pittsburgh episode of the late Anthony Bourdain's 'Parts Unknown' alongside her boyfriend, Adam Cole, who wrestles for WWE's NXT brand.