PHOTO: Iconic Staples Center Sign Taken Down Amid Name Change
By Jason Hall
December 6, 2021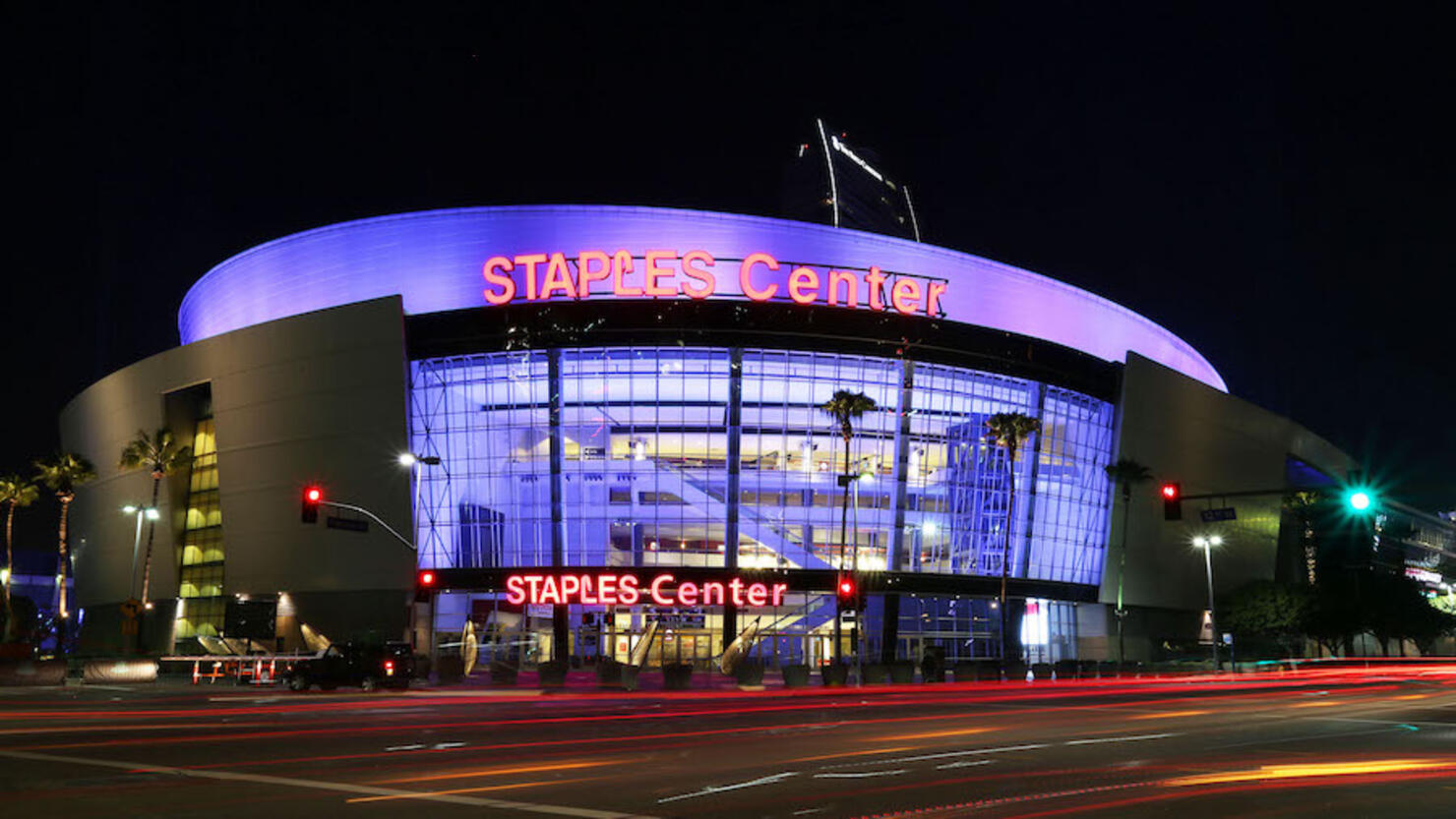 The iconic Staples Center lettering has officially been removed from the Los Angeles arena amid an upcoming name change.
NBC Los Angeles' NewsChopper4 Alpha captured a photo of the arena's red letters being taken off the arena's entrance and loading onto a truck before being taken away.
Last month, the Athletic's Shams Charania initially reported Staples Center -- the home of the NBA's Los Angeles Lakers and Los Angeles Clippers; the NHL's Los Angeles Kings; the WNBA's Los Angeles Sparks and numerous notable concerts and events, would be renamed to Crypto.com Arena on December 25 following what is "believed to be the largest U.S. venue naming rights deal to date."
The Los Angeles Times confirmed Charania's report minutes later in an article featuring a rendering of the arena with its new logo, adding that "all of Staples Center signage will be replaced with the new name by June 2022."
The renaming deal is part of a 20-year agreement between the Singapore cryptocurrency exchange -- which reportedly paid more than $700 million for the naming rights, according to sources familiar with the terms -- and AEG, the owner and operator of the arena, the Los Angeles Times reports.
"In the next few years, people will look back at this moment as the moment when crypto crossed the chasm into the mainstream," said Kris Marszalek, Crytpo.com's chief executive, from his home in Hong Kong via the Los Angeles Times. "This is just such a brilliant move from the guys at AEG, because the next decade belongs to crypto. And this positions L.A. and this particular venue right at the center of it."
Staples Center – the iconic home of the Los Angeles Lakers and Clippers among others since 1999 – will have a new name beginning Dec. 25: https://t.co/lur8Hbuv0r Arena. It's believed to be the largest U.S. venue naming rights deal to date.

— Shams Charania (@ShamsCharania) November 17, 2021
Staples Center also confirmed the name change in a news release shared on its official website shortly after both Charania and the Los Angeles Times' reports.
Staples Center has been the home of the Lakers, Kings and Clippers since 1999, with the Sparks moving in in 2001, four years after their inaugural season.
The arena has been the home of 11 world championship teams during its 21 years of operation, including six of the Lakers' record 17 NBA championships (2000, 2001, 2002, 2009, 2010, 2020), all three of the Sparks' WNBA championships (2001, 2002, 2016) and both of the Kings' Stanley Cup championships (2011-12, 2013-14).
Staples Center hosted the funerals of three legendary Los Angeles residents: Michael Jackson in 2009; Nipsey Hussle in 2019 and Kobe Bryant and his daughter Gianna in 2020.
Staples Center has also served as the home of the GRAMMY Awards a record 19 times from 2000-02; 2004-2017; 2019-2020; and will host the event under its new name in 2022.