Tom Brady Officially Announces Retirement After 22 NFL Seasons
By Jason Hall
February 1, 2022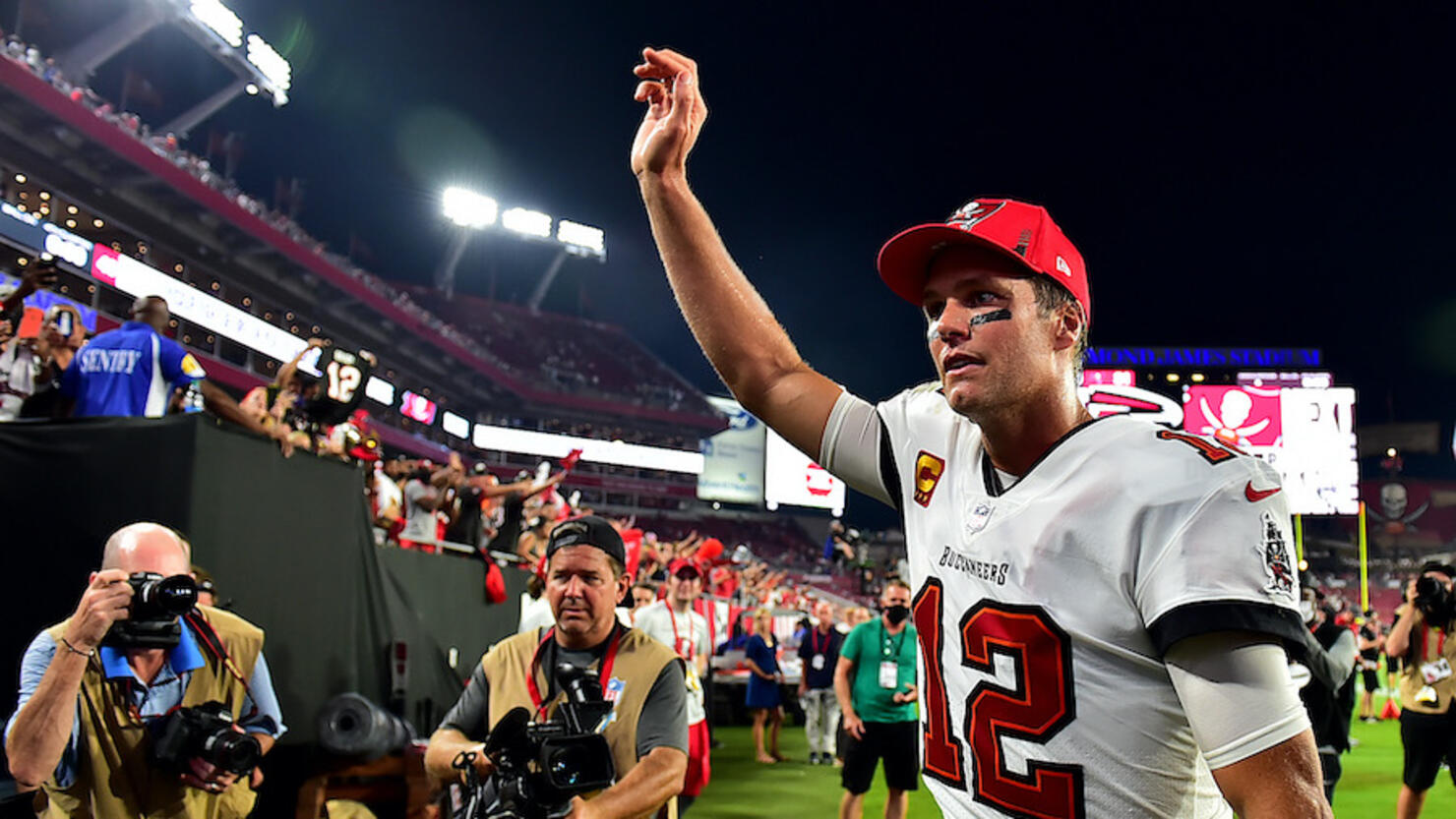 Tampa Bay Buccaneers quarterback Tom Brady has officially announced his retirement.
The seven-time Super Bowl champion confirmed his decision in a lengthy post shared on his verified Instagram account Tuesday (February 1) morning.
"This is difficult for me to write, but here it goes: I am not going to make that competitive commitment anymore," Brady wrote. "I have loved my NFL career, and now it is time to focus my time and energy on other things that require my attention."
Brady's confirmation comes hours after hIs appearance on his Let's Go! podcast Monday (January 31) night alongside co-hosts Jim Gray in which he addressed conflicting reports regarding his retirement decision over the weekend and said he was still contemplating his decision, as he'd said during his previous appearance on the show one week prior.
Brady, 44, who confirmed he was out of the country over the weekend, also said he understood the people wanting "to be in front of the news often," but reiterated that he was taking his decision "day to day" and planned to "make a great decision for me and my family" during his Let's Go! appearance prior to his official announcement.
ESPN's Adam Schefter reported "Brady is retiring from football after 22 extraordinary seasons, multiple sources tell @JeffDarlington and me."
Brady's company, TB12Sports, shared a since-deleted tweet listing the legendary quarterback's accolades, seemingly acknowledging the report minutes later.
However, Brady's agent, Don Yee, responded to the reports clarifying that Brady himself "will be the only person to express his plans with complete accuracy," although noting that he wasn't "getting into the accuracy or inaccuracy of what's being reported."
Bally Sports' NFL reporter Michael Silver initially reported that Brady had contacted Buccaneers general manager Jason Licht and told him "he has not yet made a final decision on retirement," disputing Schefter and Darlington's report.
"Licht is respecting Brady's process and waiting for a definitive answer, whenever it comes, from the QB," Silver tweeted, adding that he had "100% faith" in Darlington and his reporting and knew "that he and @AdamSchefter are extremely plugged in on this."
Report for @BallySports: Tom Brady contacted @Buccaneers GM Jason Licht and told him he has not yet made a final decision on retirement, disputing the ESPN report. Licht is respecting Brady's process and waiting for a definitive answer, whenever it comes, from the QB.

— Michael Silver (@MikeSilver) January 29, 2022
Additionally, Brady's father, Tom Brady Sr., denied the report of his son's retirement on Saturday, which he referred to as "an unsubstantiated rumor," according to KRON sports anchor Kylen Mills.
JUST IN: Tom Brady Sr. tells @kron4news that his son is not retiring. Brady Sr. says an online publication started circulating an unsubstantiated rumor. However a number of NFL insiders are now reporting it. @kron4news #TomBrady #NFL

— Kylen Mills (@KylenMills) January 29, 2022
Last Friday (January 28), CBS Sports' Jason La Canfora reported "several sources who are within Brady's inner circle anticipate" his retirement announcement in the coming weeks.
Brady immediately faced questions about his NFL future after the team's NFC Divisional Round loss to the Los Angeles Rams on January 23.
"Truthfully guys, I'm thinking about this game," Brady said after the 30-27 loss, which came on a last-second field goal after the Bucs rallied back from a 27-3 second-half deficit, via ESPN.
On January 23, sources told ESPN's Schefter and Darlington that the 44-year-old quarterback was undecided about his NFL future and planned to take time after the season ends to asses how he feels mentally and physically, as well as his family's desires, before making deciding on his 23rd NFL season.
Brady's postgame comments reiterated that report following the Bucs' elimination loss.
"I haven't put a lot of thought into it, so you know, we will just take it day by day and kind of see where we are at," Brady said.
Brady is the NFL's all-time passing leader for yards (84,520) and touchdowns (624), as well as quarterback wins (243), among numerous other records.
The San Mateo native spent his first 20 seasons with the New England Patriots, leading the franchise to an NFL record six Super Bowl championships (tied with the Pittsburgh Steelers), before joining the Bucs as a free agent in March 2020, which resulted in Tampa Bay winning its second Super Bowl in franchise history, becoming the first NFL team to win a Super Bowl in its home stadium, last February.