Kodak Black Performs With His Son, French Montana & More At Kodak Black Day
By Tony M. Centeno
June 13, 2022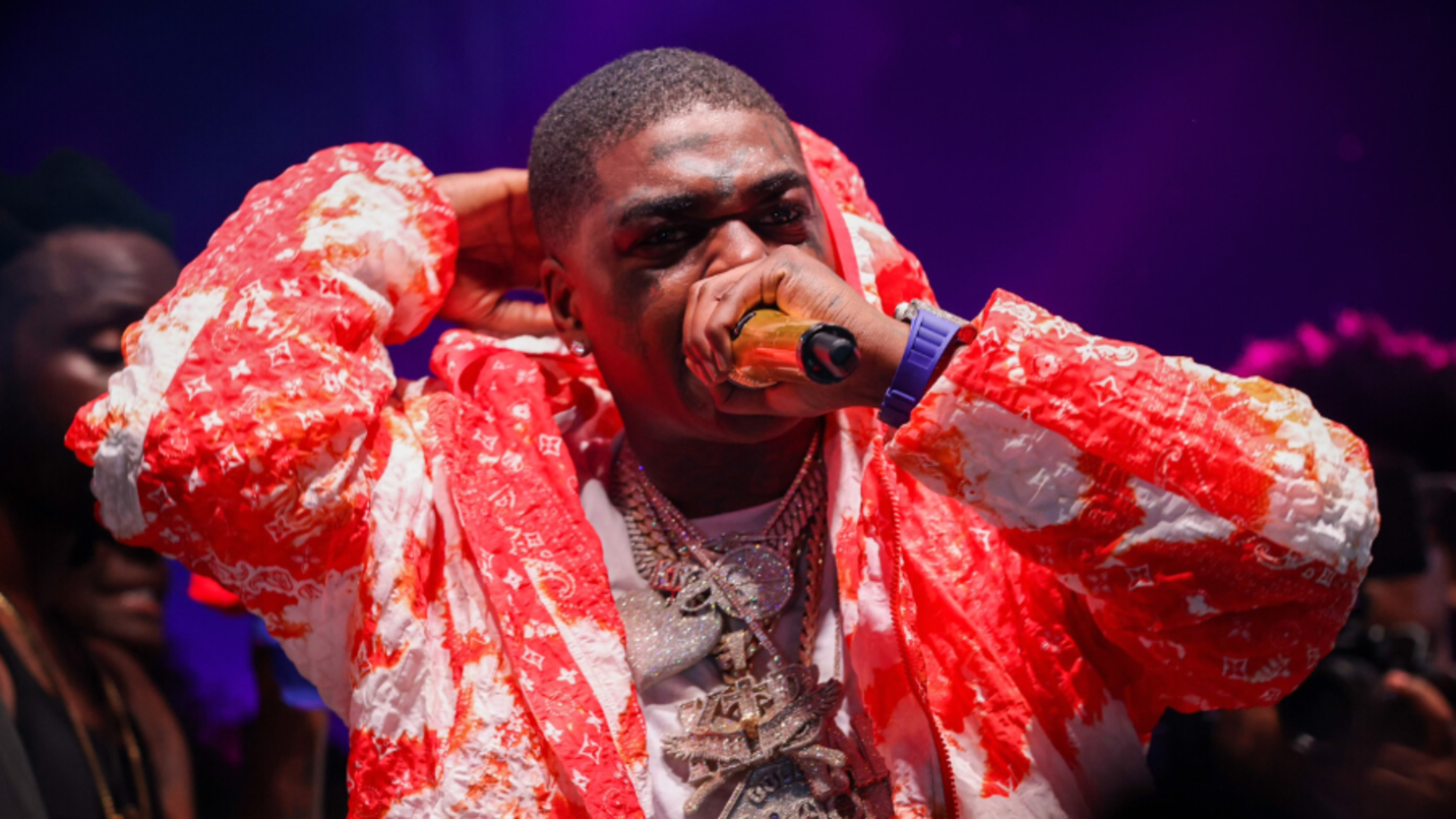 Kodak Black's inaugural Kodak Black Day went down on his birthday over the weekend. The festival, which was held in the rapper's hometown of Pompano Beach, went so well that fans and city officials alike are calling for the carnival and music festival to return every year.

A hefty crowd of fans and residents of Pompano poured through the entrance once the the gates at the Pompano Community Park opened at 1 p.m. on Saturday, June 11. They were greeted by multiple food trucks and pop-up shops before they approached the carnival area. The massive array of rides and games was enough to make any kid happy, but the day-one Kodak fans were more interested in the main stage than anything else.
The main stage was lit with various DJ's and performers all day and into the night. After artists from Kodak's label Sniper Gang/KTB entertained the crowd, Broward rapper FCG Heem hit the stage. Heem kept the fans busy for a minute as he performed songs off his most recent project Neighborhood Poet. Not long after Heem wrapped up his set, Moneybagg Yo lit up the festival with live renditions of his hits like "Time Today," "Said Sum" and "Wockesha."
In between sets from Moneybagg Yo and Yungeen Ace, Kodak made an appearance on stage to speak to his fans and receive from recognition from his community. Stichiz of 103.5 The Beat presented Yak with the 'Change Yourself Before You Change Me' award from the Fort Lauderdale MLK Celebration Committee for his outstanding charity efforts over the past year. The 25-year-old rapper has given back to the community plenty of times in 2022 alone so it was great to see him get some recognition for it all.
After Yungeen Ace shut down the festival with his set, Kodak Black finally made his way for the most anticipated set of the night. The Sniper Gang boss had a few of his artists and his family on stage with him as he welcomed everyone to the festival. During his set, Kodak performed a slew of his hits like "Skrilla," the title track from his Back For Everything album, and "Feeling Peachy." Eventually, Yungeen Ace returned to the stage to join Yak for his performance of "Senseless" and "No Flockin'."

Yungeen Ace wasn't the only guest. Midway through his set, French Montana showed up to perform his latest collaboration with Yak, "Mopstick." The Bronx rapper hung out on stage with Kodak and saluted him for his birthday. Once French made his exit, Kodak continued the show by belting out songs like "Smackers" and "Usain Boo." During those performances, Yak had some assistance from his young son, King, who knew every word to each of his dad's songs.
Kodak brought out some other special guests during his show. Baltimore Ravens star Lamar Jackson eventually made his way on stage to wish the rapper a happy birthday. Jackson also presented him with custom ATV that's reportedly worth $40,000. In addition, the mayor of Pompano Beach Rex Hardin and other city officials also joined the rapper on stage and praised him for throwing a successful event. Later on, he also brought out rapper EST Gee to perform right before he closed out the show with "Super Gremlin."

There were a few odds that were stacked against Kodak's first-ever music festival in Pompano Beach. Despite the weather conditions and the absence of promised performers like Lil Durk, the event went down without any serious incidents and set the standards for next year. Catch more scenes from Kodak Black Day below.