10 Rappers Reflect On Their First Time Performing At Rolling Loud
By Tony M. Centeno
August 1, 2022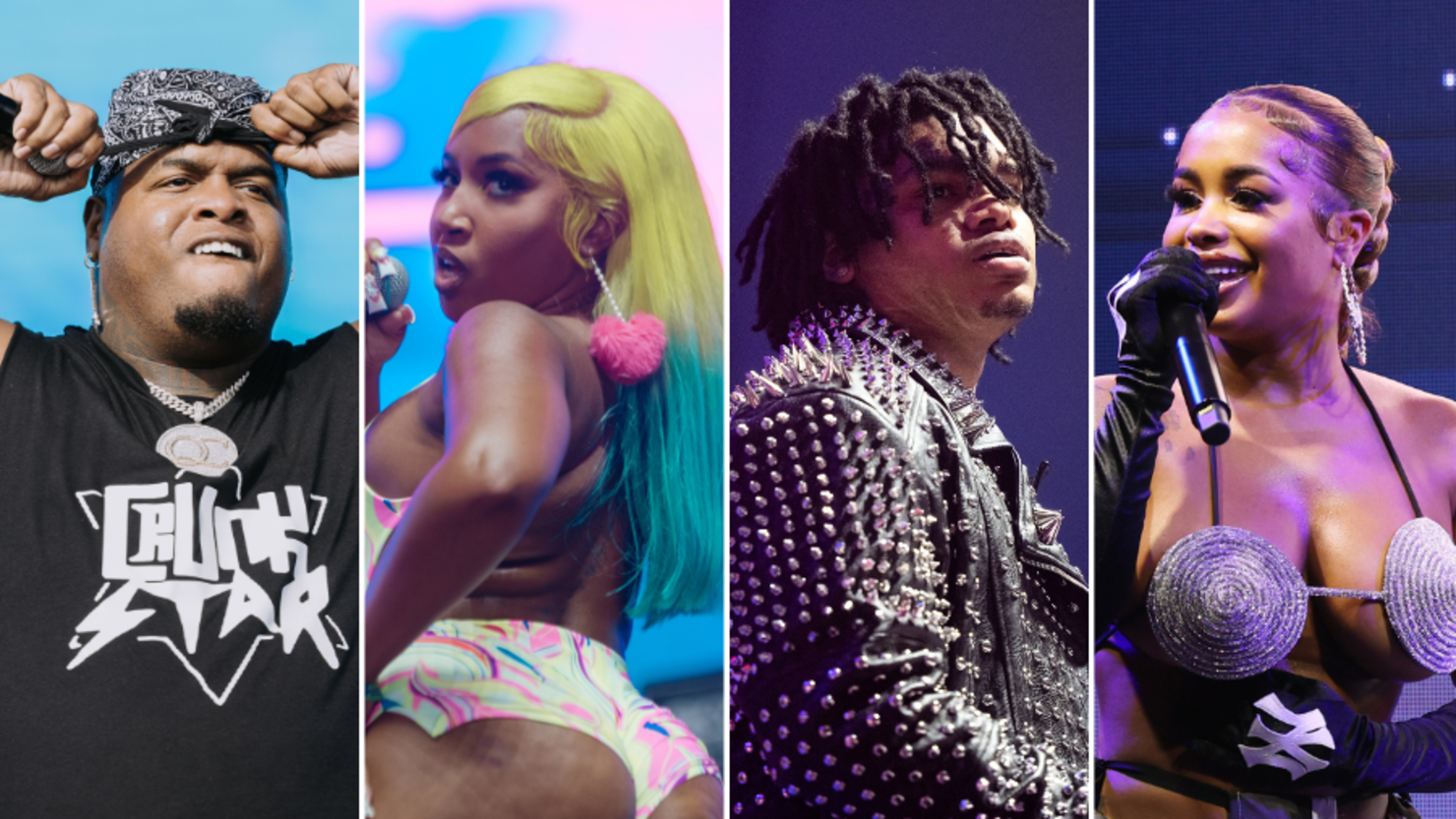 Photo: Henry Hwu & Kadeem Cobham For Rolling Loud / Getty Images
Hip-Hop artists know how to make the best of their first time performing at Rolling Loud.

To kick off the festival in Miami, rap fans were treated to a full-blown Three 6 Mafia reunion with assistance from Bun B. It was the group's first time performing at the festival, and their set will leave an impact on those who got to witness it. Not long after they wrapped up, Lil Durk closed out the GoPuff stage with a surprise appearance from Kanye West, who was supposed to headline the first night but pulled out last minute. His first time at Rolling Loud made headlines around the world.
Like Three 6 Mafia and Kanye West, there were plenty of other prominent rappers and rising stars who performed at the premier Hip-Hop festival for the first time. We spoke to 10 artists who hit the stage at Rolling Loud Miami this year and found out more about their first time performing at the festival. Some had performed for the first time like Trapland Pat, South Strip, and NoCap while others, like Baby Tate, consider themselves veterans at this point.

Check out their experiences and catch footage of their most recent Rolling Loud sets below.

WARNING: EXPLICIT LANGUAGE

Baby Tate
First Time: Rolling Loud Miami 2017

"My first time at Rolling Loud actually Bali Baby brought me out to perform at her set. I wasn't even like supposed to be here but I was anyway. This was 2017 maybe. Yeah it was fun. It was raining that year. It was crazy."


Duke Deuce
First Time: Rolling Loud Miami 2021
"Man it was crazy. I know I had top performance for real for real. It wasn't nothing organized. We just went out there and did us and everybody loved it."


DreamDoll
First Time: Rolling Loud New York 2021

"The first time performing at Rolling Loud I wasn't able to finish my make-up so I went on stage with half a make-up. I changed my setlist before I went on so I forgot the order. So I was introduced to the wrong song but it's all good. But at the end of the day, it was great. The crowd went crazy. I'm sad I didn't get to see the other artists perform but it was lit. I love Rolling Loud."
Trapland Pat
First Time: Rolling Loud Miami 2022

"I'm not feeling anything but I think, you know, once it's time to hit the stage I'll get a little butterflies because it's natural. The fans can expect a lot of energy. I be interacting with the fans in the crowd. I want everybody to feel comfortable and have a good time."


NoCap
First Time: Rolling Loud Miami 2022

"I mean it was crazy man. I go out there and get a rush from that s**t man. I come from nothing so to see that is crazy. It's really different because everytime I go out there I see a different type of crowd. I ain't got just one type of crowd out there. I got a mixed crowd so it be extra hard and extra crazy."

Skodi
First Time: Rolling Loud Miami 2021

"It was stressful. Like I didn't know s**t! Then this one was so lit because I came so prepared. I came out in a shopping cart. I like threw snacks. The crowd was amazing. Everybody loved it. It was great."


K. Charles
First Time: Rolling Loud Los Angeles 2019

"My first time performing at Rolling Loud.. it was just shocking because being an artist that's been grinding for a minute I knew I was going to be on a big stage but I never knew when. So when the opportunity presented itself, I was in awe. I was amazed."

Cash Cobain & Chow Lee
First Time: Rolling Loud Miami 2022

"It was just the energy. I fed off the energy. We were just going crazy. We were the first performers so I don't know what the crowd was thinking it was going to be but once we got to that second song, it was over. They knew what it was. It was the energy. They fed off my energy, I fed off their energy. It was crazy."


Cherele
First Time: Rolling Loud Miami 2015

"It got flooded. It did flood but it was really amazing. This one is so much bigger. I'm just really proud of everybody. South Florida really runnin' s**t, but yeah this one was crazy."


South Strip
First Time: Rolling Loud Miami 2022
"It was an honor to perform, especially at Rolling Loud Miami because we're Broward and Dade-based. It's a big blessing. Really man, this s**t feels surreal. A year and a half ago we got our first million views on a song so to being able to open the Snipes stage on Rolling Loud in a city we're super familiar with, it's unbelievable bro." - Coolboifresh, Constant, Shwinn & SHOGEE2K