AEW Owners Shad And Tony Khan Among Potential Buyers For WWE: Report
By Jason Hall
January 13, 2023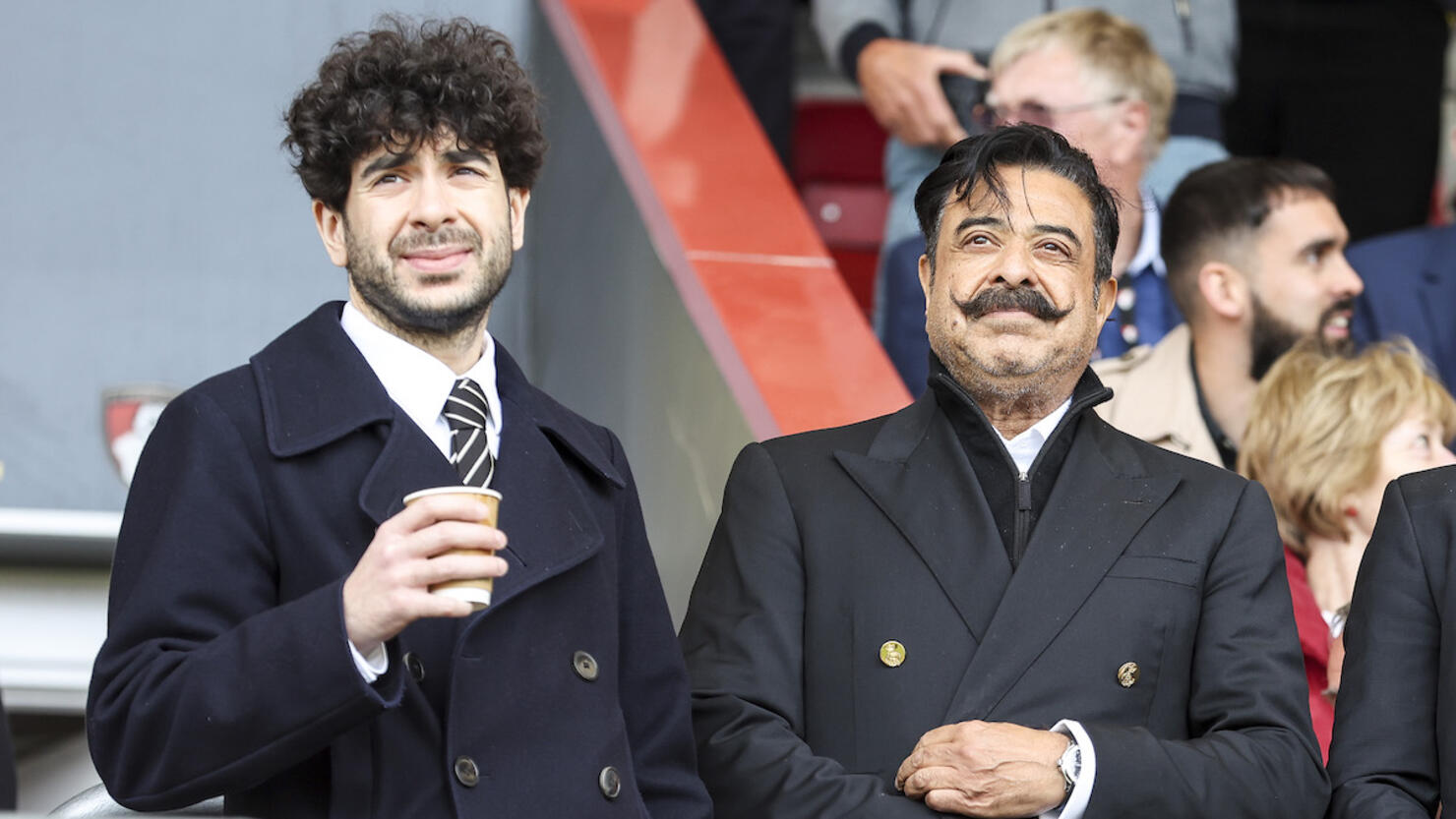 All Elite Wrestling owners Shad and Tony Khan are reportedly among the potential buyers interested in purchasing World Wrestling Entertainment, sources with knowledge of the situation confirmed to CNBC.
The Khans, who also own the National Football League's Jacksonville Jaguars and the Premier League's Fullham F.C., would reportedly purchase WWE as part of a merger, according to the sources who asked to be kept anonymous as the discussions are private.
Shad Khan ranked as the No. 292 richest person in the world with a net worth of $7.56 billion, according to the Bloomberg Billionaires Index.
The concept of McMahon selling WWE to his competition is a longshot, however, the Khans are reported to be among candidates with interest.
AEW currently has a television carriage rights agreement with Warner Bros. Discovery's TNT and TBS.
WarnerMedia -- which was AOL Time Warner at the time, decades before its merger with Discovery -- sold World Championship Wrestling -- which also aired on TNT and TBS -- to McMahon in 2001.
Tony Khan, who serves as the AEW's president, chief executive, general manager, executive producer and head booker, launched the company alongside wrestlers and executives Cody Rhodes -- who left after the conclusion of his contract to return to WWE last year -- Kenny Omega and the Young Bucks (Matt and Nick Jackson) in 2019, serving as McMahon's biggest competition since the WCW purchase.
Khan had previously purchased Ring of Honor in January 2022, shortly after the company went on hiatus months prior.
Earlier this week, WWE CEO Nick Khan -- who is not related to Shad and Tony Khan -- reportedly Disney CEO Bob Iger and ESPN President James Pitaro at the College Football Playoff National Championship Game in Los Angeles on Monday (January 9) night, Wrestling Observer's Dave Melzer reports, adding that the Saudi Arabia Public Investment Fund is also among several organizations interested in purchasing the sports entertainment empire.
"They're not sold. Saudi Arabia is in the hunt. They're one of the companies that's looking for it," Meltzer said. "The names that are out there are all in the hunt. Nick Khan was in Los Angeles when I was in Los Angeles. [He] went to the football game Monday night, so he wasn't at Raw and met with heavy hitters because they went to the College Football Championship game. Bob Iger, Jimmy Pitaro, so I guess those names will ring some bells."
Several other companies publicly mentioned as potential buyers include Comcast, which airs RAW live on USA Network and features WWE on its on-demand streaming service Peacock; FOX Broadcasting Company, which airs Friday Night SmackDown; Amazon and Endeavor Group Holdings.
Several sources with knowledge of the situation have reportedly denied WWE's sale to Saudi Arabia's Public Investment Fund.
MMA and professional wrestling journalist Ariel Helwani said he was told that a deal isn't in place "at this precise moment" and "the organization is still exploring all options," according to sources.
"Contrary to reports stating otherwise last night, there is no deal in place at this precise moment for WWE to be sold to Saudi Arabia's Public Investment Fund or any entity, sources say," Helwani tweeted. "The organization is still exploring all options, I'm told. Developing."
Steven Muehlhausen of DAZN Wrestling initially reported that WWE had been sold to Saudi Arabia's Public Investment Fund and the company would go "back to being private" in a since-deleted tweet shared Tuesday (January 10) night.
Contrary to reports stating otherwise last night, there is no deal in place at this precise moment for WWE to be sold to Saudi Arabia's Public Investment Fund or any entity, sources say.

The organization is still exploring all options, I'm told. Developing.

— Ariel Helwani (@arielhelwani) January 11, 2023
The report came hours after Stephanie McMahon, the daughter of WWE founder Vince McMahon, announced that she's resigned from her position as co-CEO in a statement shared on her Twitter account Tuesday (January 10) evening.
McMahon's announcement came less than a week after her father officially returned from retirement last Friday (January 6) and prior to officially being re-elected as chairman of WWE's board of directors on Tuesday.
Last Saturday (January 7), CNBC reported that WWE hired JPMorgan to help advise a possible sale amid Vince McMahon's return from retirement.
"They're looking to sell by the middle of the year, JPMorgan is helping them," Meltzer said. "Saudi is the only one of the key people as far as if they want to go private. The rest are public companies...There'll be a decision made at some point. There is definitely smoke to the Saudi Arabia story but it's too early for a deal to be finalized."
The report of JPMorgan's involvement came within hours of McMahon officially returning and electing himself to WWE's board of directors on Friday (January 6).
McMahon still had majority voting power through his ownership of the company's Class-B stock, which allowed him to add himself, as well as former co-presidents and directors, Michelle Wilson and George Barrios, to WWE's board, a move required three former directors to vacate their positions.
WWE's board of directors had previously rejected a move to reinstate McMahon since his retirement last year.
McMahon announced his retirement amid a sexual-harassment scandal in an official statement shared by the company, confirming his daughter and Khan would take over as co-CEOs amid his departure.
Paul 'Triple H' Levesque, McMahon's son-in-law and a former top in-ring performer, took over WWE creative amid McMahon's departure.
In August, an SEC filing confirmed McMahon paid a total of $19.6 million in personal expenses.
The payments, which were uncovered during the company's ongoing investigation into claims of sexual misconduct committed by McMahon, made two payments in 2007 and 2009 that should have been included in the company's consolidated financial statements.
In July, the Wall Street Journal, which exclusively reported WWE's investigation a $3 million hush-money settlement paid by McMahon to a woman over an alleged affair, reported that the 76-year-old paid more than $12 million in hush money to four women during the past 16 years in an effort to suppress allegations of sexual misconduct and infidelity.
McMahon initially stepped down from his responsibilities voluntarily amid the ongoing investigation into alleged misconduct and would be replaced by his daughter on an interim basis.
Since then, McMahon had made multiple in-character appearances on both Friday Night SmackDown and Monday Night Raw, though not directly addressing the allegations or investigation and appeared publicly at the UFC 276 event in Las Vegas shortly after the conclusion of WWE's Money in the Bank event in the same city.
According to the Journal, an agreement was made in January 2022 to prevent the woman, a former WWE paralegal, from discussing her relationship with McMahon or making critical statements about him publicly.
A spokesperson for WWE confirmed to the Journal that the company was cooperating with the board's investigation -- which was launched in April -- and that the relationship between the 76-year-old and the former employee was consensual.
McMahon has been married to his wife, Linda -- who served as WWE's president and later CEO from 1980 to 2009 and later as Small Business Administration chief as part of former President Donald Trump's administration from 2017 to 2019 -- since 1966.
The Journal also reports that the board's investigation revealed other nondisclosure pacts stemming from misconduct claims involving other women who had previously worked for WWE, which involved McMahon and John Laurinaitis, WWE's general manager of talent relations, who was reportedly fired on Monday (August 8), according to PWInsider.
McMahon had previously disposed 38,519 of his shares of World Wrestling Entertainment stock at $0 following his recent retirement, but still remained the company's top shareholder, according to an SEC filing shared on WWE's official corporate website on July 26.