What You Can Expect From New Harry Styles Course At Texas University
By Dani Medina
January 27, 2023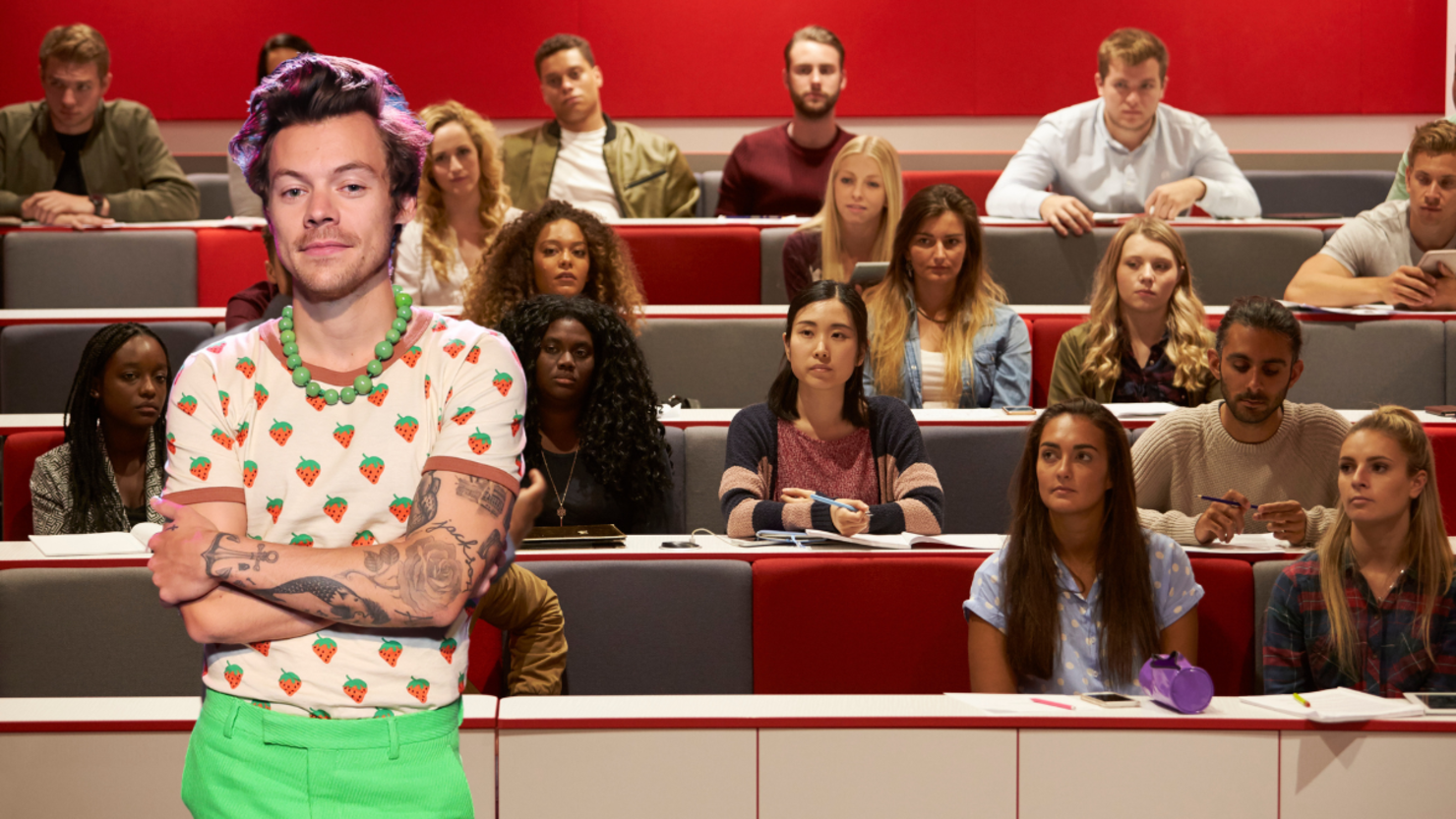 You may think you know everything there is to know about Harry Styles, but a new course at Texas State University aims to change that.
The "Harry Styles and the Cult of Celebrity" course was first announced back in July, but now we have more details about what exactly students can expect to learn since the class just completed its first week. If you thought you had time to enroll, however, you thought wrong — the class, capped at 20 students, filled up in just 2 minutes, MySanAntonio reports.
When the "world's first ever university course on the world of Harry Styles" was first announced, Associate Professor of Digital History Louie Dean Valencia took to social media to explain the class a bit more. "As an historian, I want the class to get to really see how the world has changed in the last 12 years or so, but also how to put that into historical context, through the lens of Harry Styles, and how they can learn from him and his art, activism and philosophy, like any great artist."
Now, he's clarifying that the class isn't just about the "Watermelon Sugar" singer.
It's official, official. I'm teaching the world's first ever university course on the work of #HarryStyles is happening Spring 2023 at @TXST University (see description).

This is what tenure looks like. Let's gooooo! 😊 pic.twitter.com/1z3vMZoxRV

— Louie Dean Valencia (@BurntCitrus) July 16, 2022
"It's not just that we're going to study Harry Styles and nothing else. In the same way you could probably learn about The Beatles to understand the 1960s, you could study Harry Styles to learn about the world today," Valencia told MySanAntonio.
Styles is just the beginning, Valencia continued. The first week of classes centered on how Styles drew inspiration from icons like Elvis Presley, Prince, Little Richard and David Bowie. "We really talked about issues related to the origins of rock 'n' roll music, starting with how African American culture is built into that," he said.
In addition to learning about Harry's music and films, students will also work together produce a podcast. "All very real skills that would be helpful in the world to be able to create budgets, how to put together an event, and how to make something appealing by whenever you put it in an application. So, those are some of the assignments, but also very specifically in class, we'll be trying to deal with various contemporary issues. So it's all these types of skills that are good for people living in the world we live in today, but at the same time, you get a little bit fun with it," Valencia said.
You can take a look at the syllabus for the course below (or here if it doesn't load).