Old Dominion Unveils Extended 'No Bad Vibes' Dates Through The End Of 2023
By Kelly Fisher
May 1, 2023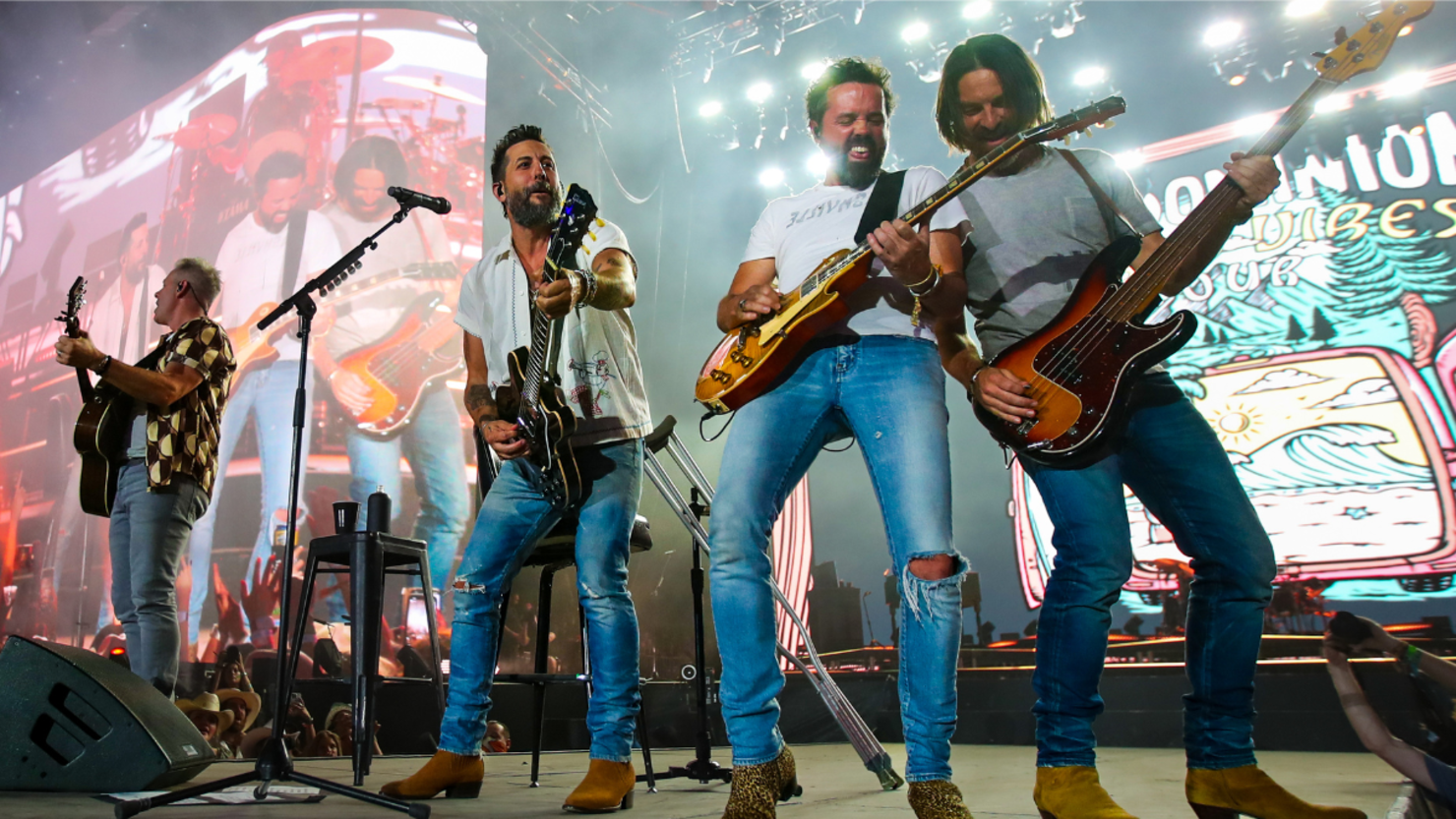 Old Dominion is keeping the "No Bad Vibes Tour" going through the end of the year with an all-star lineup joining the band in the fall. The award-winning group — Matthew Ramsey, Trevor Rosen, Whit Sellers, Geoff Sprung, and Brad Tursi — unveiled the latest list of tour dates on their social media channels on Monday (May 1).
"When we said we were back, we meant it," Old Dominion wrote in an Instagram caption as they listed new tour dates and special guests. "Keeping the good vibes rolling with new arena shows and special guests through the fall."
Old Dominion noted that tickets go on sale to the general public starting Friday (May 5) at 10 a.m. local time. This leg of the nationwide trek will feature Tyler Hubbard, Chase Rice, Kylie Morgan, Kip Moore, Priscilla Block, Adam Doleac, Jameson Rodgers, Niko Moon and Kassi Ashton.
The "I Was On A Boat That Day" band initially announced their tour at a free pop-up show in Nashville, Tennessee. The Whiskey Jam headlining show also included Ashton, Frank Ray, Greylan James and Shawn Austin, all of whom made up the lineup in October 2022. During their performance, Old Dominion made the surprise announcement that they would kick off the "No Bad Vibes Tour" — named with inspiration by their former tour mate, Kenny Chesney — in early 2023.
"At the ['No Bad Vibes' Tour], we want y'all to feel happy... like you can forget about whatever is bothering you or whatever's weighing you down. Just come and hangout with us, and escape for a couple hours," Old Dominion shared when they announced the tour. "[Whiskey Jam] is a big part of our history as a band and a huge platform for up-and-coming artists in Nashville. That's why we're bringing some Whiskey Jam favorites with us on tour. We can't wait to see you! Hopefully you'll walk out feeling a little lighter than when you walked in."
Old Dominion has been releasing several new songs as they usher in their next era of music. The band's latest release is "I Should Have Married You," adding to "Easier Said With Rum," "Ain't Got A Worry," "Freedom Like You" and "Memory Lane."
See Old Dominion's latest announcement here, and see their newly-announced tour dates and special guests below.
9/7 Grand Rapids, MI w/ Priscilla Block, Adam Doleac, Kylie Morgan
9/8 Milwaukee, WI w/ Priscilla Block, Adam Doleac, Kylie Morgan
9/9 St. Paul, MN w/ Priscilla Block, Adam Doleac, Kylie Morgan
9/14 Detroit, MI w/ Priscilla Block, Adam Doleac, Kylie Morgan
9/15 Pittsburgh, PA w/ Priscilla Block, Adam Doleac, Kylie Morgan
9/16 Niagara Falls, ON w/ Kylie Morgan
9/21 Boston, MA w/ Jameson Rodgers, Niko Moon, Kassi Ashton
9/22 Uncasville, CT w/ Jameson Rodgers, Niko Moon, Kassi Ashton
9/23 Belmont Park, NY w/ Jameson Rodgers, Niko Moon, Kassi Ashton
9/28 Charleston, SC w/ Tyler Hubbard, Kylie Morgan
9/29 Charlotte, NC w/ Tyler Hubbard, Kylie Morgan
9/30 Raleigh, NC w/ Tyler Hubbard, Kylie Morgan
10/5 Roanoke, VA w/ Tyler Hubbard, Kylie Morgan
10/6 Greenville, SC w/ Tyler Hubbard, Kylie Morgan
10/7 Atlanta, GA w/ Tyler Hubbard, Kylie Morgan
10/26 Glendale, AZ w/ Chase Rice, Kylie Morgan
10/27 Los Angeles, CA w/ Chase Rice, Kylie Morgan
11/1 Seattle, WA w/ Kip Moore, Kylie Morgan
11/2 Portland, OR w/ Kip Moore, Kylie Morgan
11/4 Salt Lake City, UT w/ Kip Moore, Kylie Morgan
11/16 Ft. Wayne, IN w/ Chase Rice, Kylie Morgan
11/17 Rosemont, IL w/ Chase Rice, Kylie Morgan
11/18 St. Louis, MO w/ Chase Rice, Kylie Morgan
11/30 Wilkes-Barre Township, PA w/ Chase Rice, Kylie Morgan
12/1 State College, PA w/ Chase Rice, Kylie Morgan
12/2 Baltimore, MD w/ Chase Rice, Kylie Morgan
12/7 Des Moines, IA w/ Chase Rice, Kylie Morgan
12/8 Kansas City, MO w/ Chase Rice, Kylie Morgan
12/9 Lincoln, NE w/ Chase Rice, Kylie Morgan
12/13 Columbus, OH w/ Chase Rice, Priscilla Block, Kylie Morgan
12/14 Louisville, KY w/ Chase Rice, Priscilla Block, Kylie Morgan
12/15 Nashville, TN w/ Chase Rice, Priscilla Block, Kylie Morgan