Justin Jefferson Could Soon Get Record-Setting New Deal: Report
By Jason Hall
May 30, 2023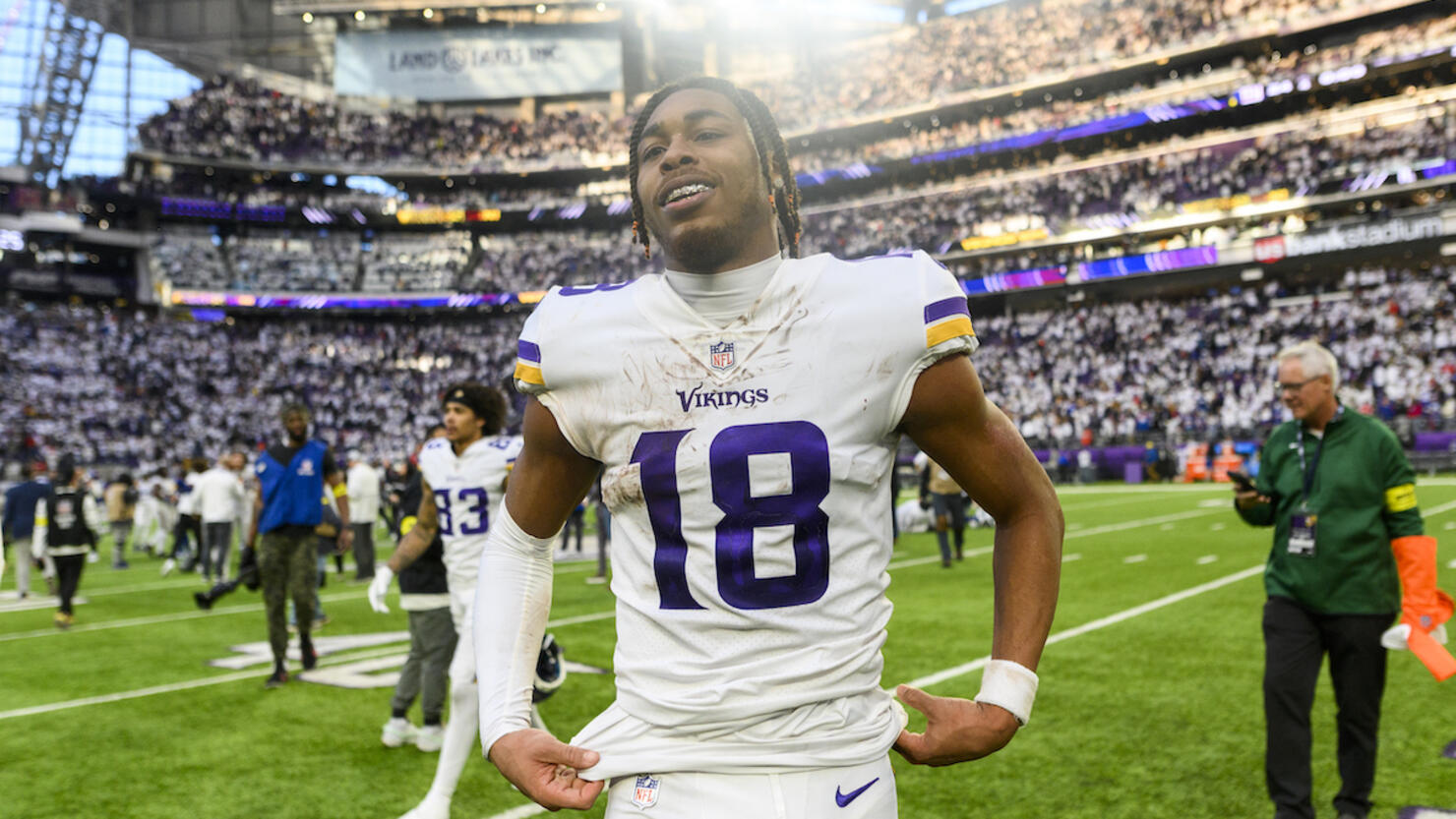 The Minnesota Vikings are reportedly "going to prioritize" a new deal for All-Pro wide receiver Justin Jefferson, which could be the largest contract ever given to a non-quarterback, according to ESPN's Jeremy Fowler.
"Because wide receiver—that market has gone up to $30 million with [Miami Dolphins wide receiver] Tyreek Hill, [Las Vegas Raiders wide receiver] Davante Adams, all of those guys," Fowler said while addressing the potential deal during an appearance on SportsCenter (h/t Bleacher Report) Monday (May 29). "Jefferson is considered by many around the league as the very best receiver in the NFL. So, are we talking, you know, Aaron Donald money, $31 million per year? We'll see."
Jefferson may get a deal exceeding $32 million annually, which would surpass Hill's four-year, $120 million contract with the Dolphins, which he agreed to as part of a sign-and-trade with the Kansas City Chiefs last offseason. Last month, the Vikings exercised the fifth-year option on Jefferson's rookie contract for the 2024 season.
Jefferson, 24, led all NFL players with 128 receptions and 1,809 yards -- which was the sixth-highest average total in league history -- as well as eight touchdowns, winning the NFL Offensive Player of the Year award, among several other awards, during the NFL Honors ceremony last month. The former LSU standout has recorded 4,824 yards, which is the most ever recorded by a receiver through their first three NFL seasons.
Vikings general manager Kwesi Adofo-Mensah told reporters that signing Jefferson to a long-term extension it was a "high-priority" while speaking to reporters during the NFL Scouting Combine in Indianapolis in February.
"I don't want to be the Vikings' GM without that guy on our team," Adofo-Mensah said when asked about signing Jefferson to a long-term deal. "So it's a high priority. We've got to make sure we do in the order that we can do it in, obviously, given all of our other decisions we have to make."
Jefferson had previously stated that he wasn't worried about reaching a deal earlier in the offseason.
"I mean, if it comes, it comes. It comes with the success. It's not really something that I'm really worried about or I have my mind set on," Jefferson said when asked about a potential massive new contract via ESPN.
"That's not my decision," he added when asked if he deserved to be the highest-paid receiver in NFL history. "It is what it is. They pay me whatever they pay me. They don't even really have to give me an extension this year. It is what it is. It's not really something that I'm really worried about."