Jason Kelce Addresses Viral Clip From Cowboys Game, Says He 'Blacked Out'
By Jason Hall
November 8, 2023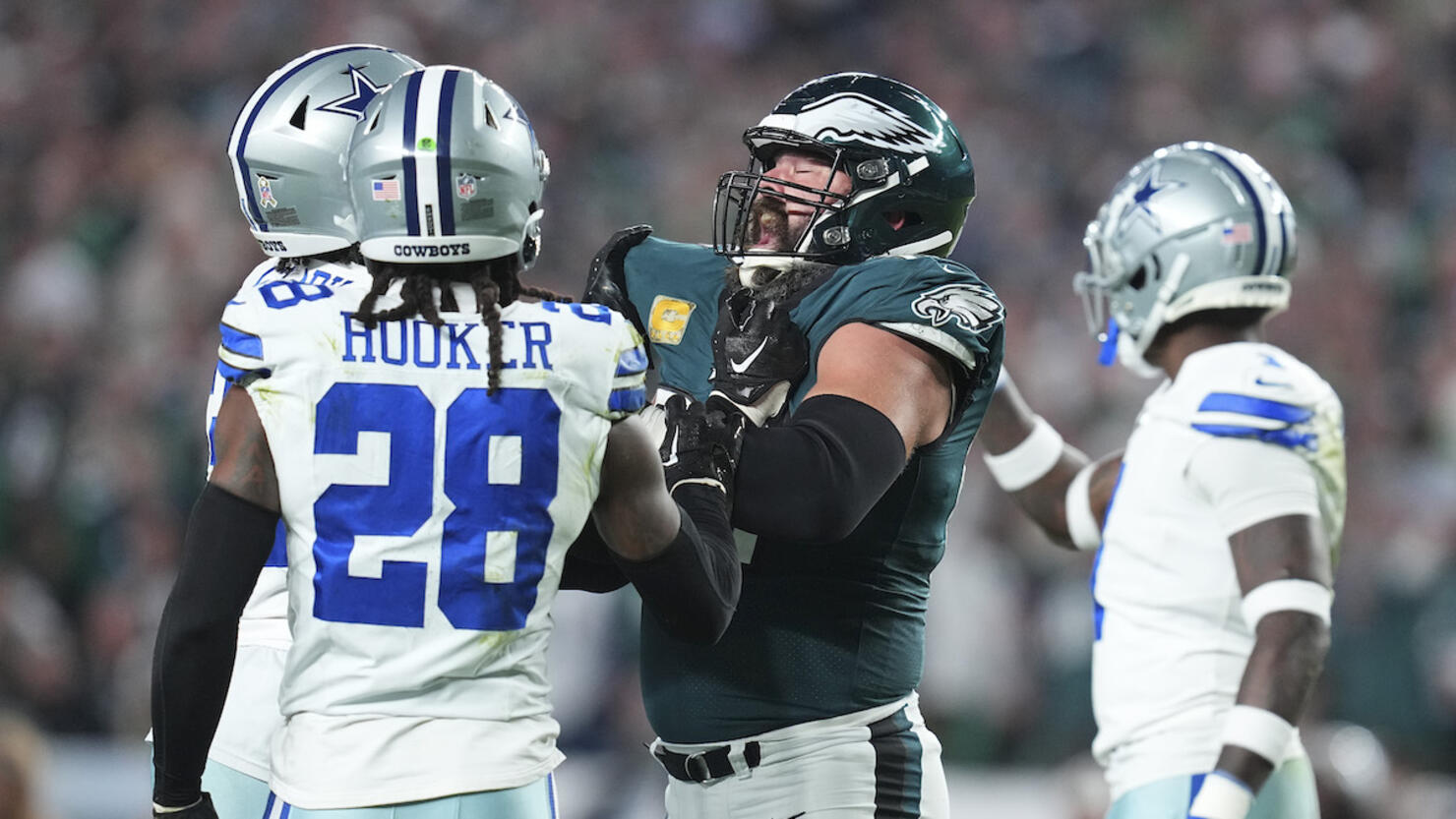 Philadelphia Eagles center Jason Kelce said he was "laughing" during a viral moment in which many thought he was screaming at Dallas Cowboys linebacker Damone Clark during Sunday's (November 5) win at Lincoln Financial Field.
"I actually wasn't screaming," Jason said in the latest episode of his 'New Heights' podcast alongside his brother and co-host, Kansas City Chiefs tight end Travis Kelce. "I was laughing as loud as I could in his face."
Kelce and Clark were spotted holding each other's jerseys during the second quarter of FOX Sports' live broadcast of Sunday's game, which included a slow motion, zoomed in clip of the All-Pro center with his eyes closed and mouth wide open.
"The biggest offensive play for some people is Jason, you screaming right in that man's face," Travis said. "Why don't you tell the people what the f*** you were doing."
That's when Jason revealed he was actually laughing in Clark's face during the tie-up.
"That's a laugh?" Travis asked. "That's f–king terrifying. You're like a f***ing thrilled villain, just a crazed f–king psycho."
"Yeah I don't know what happened," Jason responded. "I kinda blacked out."
The Eagles defeated the NFC East Division rival Cowboys, 28-23, to improve their record to 8-1 through their first nine games of the 2023 NFL season. Philadelphia will enter its bye week before resuming action against Travis' Chiefs at Arrowhead Stadium on November 20 in a rematch of Super Bowl LVII.