Journey's Neal Schon Invites Steve Perry to Join Him at Upcoming Concerts
By Andrew Magnotta @andrewmagnotta
January 17, 2019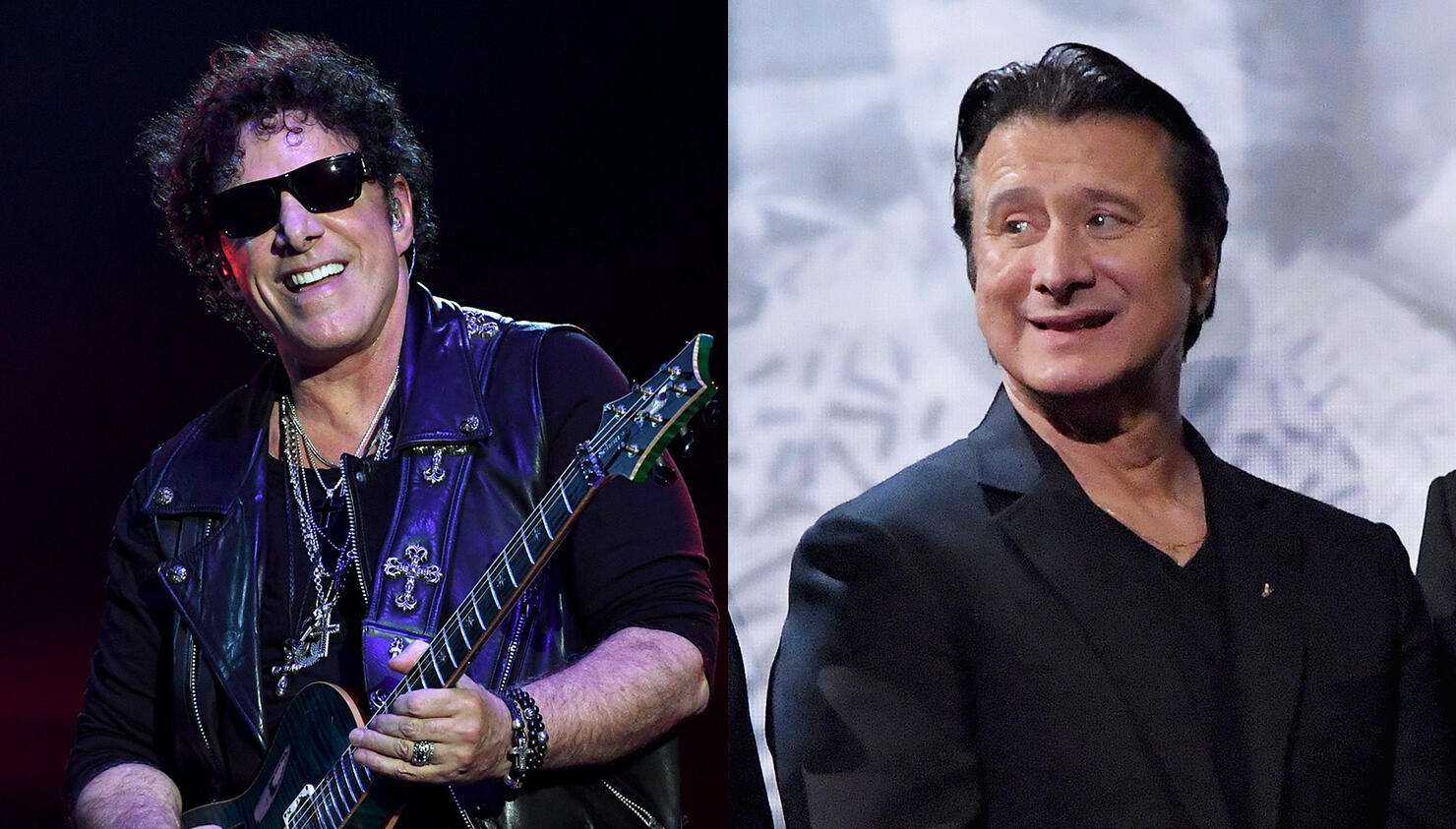 Neal Schon gave it a good try, but he couldn't stick to his declaration from this past summer that he would stop talking about collaborating with former Journey front man Steve Perry.
To avoid the appearance that he's badgering his former songwriting partner, Schon's latest act of outreach comes as an "open invitation" to Perry.
Neal Schon's Journey Through Time project — which debuted last year — features him reunited with Journey co-founder Gregg Rolie, former Journey drummer Deen Castronovo, and a group of close musical friends for an evening of deep cuts from Schon and Rolie's respective catalog with Journey and Santana.
The collective is set to perform February 22 at the Jackson Racheria Casino in Jackson, California, and February 23 at the Fox Theater in Oakland, CA.
Schon nudged Perry via Twitter on Monday, reminding the singer that he's more than welcome to come down to either one of the shows (or both) if he's so inclined.
Perry returned to music last fall delivering his first new material in more than 20 years with, Traces, his third solo album.
While the singer supported the album with a busy press schedule and answered just about every Journey-related question he was asked, he never once wavered from his position that he has no desire to work with Schon or Journey again.
He has also yet to announce any live dates or commit to doing a tour in support of Traces, except to clarify that he will perform his Journey hits if he winds up back on the stage with a solo band.
Schon said in September that Perry has his number if he wants to get in touch, and he was done trying to coax the elusive singer into rekindling their friendship.
"I'm not gonna press the issue anymore because I think ultimately it's gonna be up to him," Schon told AZ Central. "But I will say that I know my fans and Journey fans around the world are writing me, privately and openly, and just praying for that, because we definitely have a chemistry together that's undeniable."
Regardless of how Perry feels about Schon and Journey after singing their praises at the band's Rock and Roll Hall of Fame induction in 2017, he said in October that he thinks a one-off with Schon would be detrimental to both parties.
"I'm not sure that's possible without stirring up hopes of a reunion," Perry said. "Please listen to me. I left the band 31 f***ing years ago, my friend. You can still love someone, but not want to work with them. And if they only love you because they want to work with you, that doesn't feel good to me."
Photo: Getty Images