Slash Confirms Guns N' Roses Is Working on a New Album
By Andrew Magnotta @AndrewMagnotta
February 15, 2019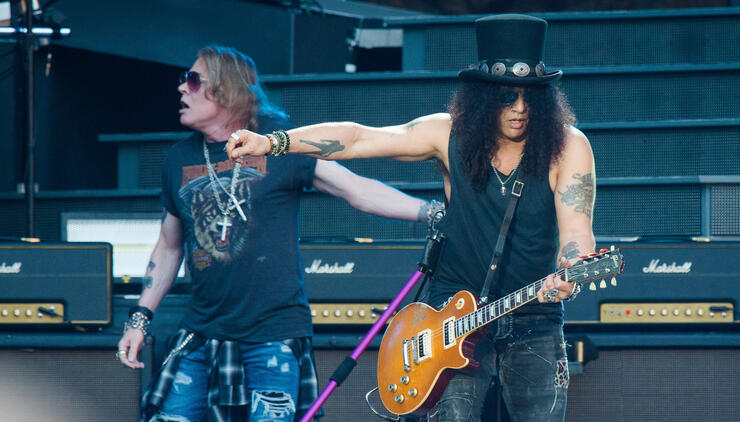 The members of Guns N' Roses have been pretty open about their willingness to record new music with the band's revamped and partially-reunited lineup, featuring Axl Rose back alongside Slash and Duff McKagan for the first time in decades.
Slash, too, has acknowledged that the band has been throwing new ideas around. But it was only recently that the iconic guitarist confirmed the band has plans to record.
"Axl, Duff, myself and Richard [Fortus, guitar] have all talked about... there's material and stuff going on already for a new record," Slash told TVK's "Rock City" in a new interview.
The Global Brand Ambassador for Gibson Guitars clarified some of the previous vagueness around GNR's plans to move forward as a real band. He explained that Guns N' Roses is operating much like it did in the early days; there's not a lot of pressure.
"It's just, with Guns N' Roses, you don't go, 'Oh, there is a plan, and it's gonna be like this,' because that's not how it works," he said. "So, basically, the only real answer to give is we're hoping to put a new record out, and we'll just see what happens when it happens."
McKagan — who is releasing a new solo album this year — said last summer that writing new music was the next logical step for GNR after the Not in This Lifetime tour. Fortus said in December that fans might be surprised at how quickly a new GNR release arrives.
It may be that Slash is the one holding up the process, given that he's taken hardly any time away from his solo band, Slash featuring Myles Kennedy and the Conspirators, during breaks in the GNR world tour.
Fans are cautiously optimistic about new GNR music.
The band's last album was Chinese Democracy, which arrived 15 years after its predecessor. But maybe with Slash and McKagan back in the fold, and a new attitude on Rose's part, a new album will be a less arduous undertaking.
Slash has tour dates booked through mid-August, so it seems unlikely the band would release anything before September.
Photo: Getty Images