John Fogerty Is The First Artist To Cancel Woodstock 50 Performance
By Andrew Magnotta @AndrewMagnotta
July 26, 2019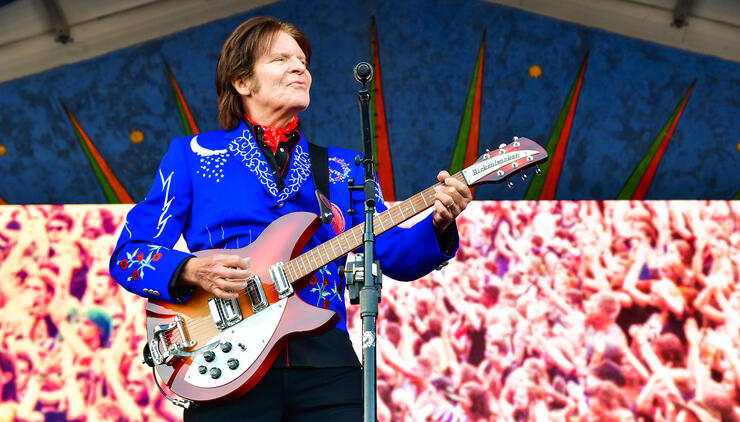 One of the first artists to cancel an appearance at Woodstock 50 Washington is one who played the original Woodstock festival in 1969.
John Fogerty expressed optimism this spring that Woodstock festival co-creator Michael Lang and his team would come through on their promise to make the festival happen. But the former Creedence Clearwater Revival front man was apparently not interested in rerouting his tour through Maryland on short notice.
Fogerty is also booked at the "unofficial" 50th anniversary celebration at the original Woodstock site in Bethel Woods, NY.
A representative for the Rock and Roll Hall of Famer seemed to take a swipe at Woodstock 50's team over the festival's false start.
"John Fogerty knows here he will be for the anniversary weekend of Woodstock," read a statement issued to Variety. "At only one site ... at the original one — the Bethel Woods Center for the Arts. ...As he says in his song 'Who'll Stop the Rain,' written returning from Woodstock: 'No more confusion on the ground.' ...John is going back to the original site where his name appears on a plaque commemorating that weekend."
A slew of production setbacks, including the loss of a major financier, caused Woodstock 50 to be denied a permit for its initial site in upstate New York. An effort to move the event to another upstate town also failed, as local official cited logistical and infrastructural concerns.
It was revealed Thursday that Woodstock 50 finally secured a venue — three weeks before the three-day event is to take place Aug. 16 - 18 — and would be moving festivities to Merriweather Post Pavilion in Columbia, Maryland.
The rebranded Woodstock 50 Washington festival is also being touted as a fundraiser to benefit organizations that work to increase voter turnout and fight climate change.
During a May interview with Rolling Stone, Fogerty expressed cautious optimism that Woodstock 50 would get its act together. He confirmed at the time that he had been paid in advance for his appearance; if the festival fell through, he said he would donate his fee to charity.
The 50th anniversary of Woodstock is also a special one for Fogerty, who is partnering with his former CCR band mates to finally release their hit-laden set from the original 1969 festival on Aug. 2.
Photo: Getty Images
Chat About John Fogerty Is The First Artist To Cancel Woodstock 50 Performance