Maynard James Keenan Explains Why TOOL Takes So Long To Do Everything
By Andrew Magnotta @AndrewMagnotta
July 30, 2019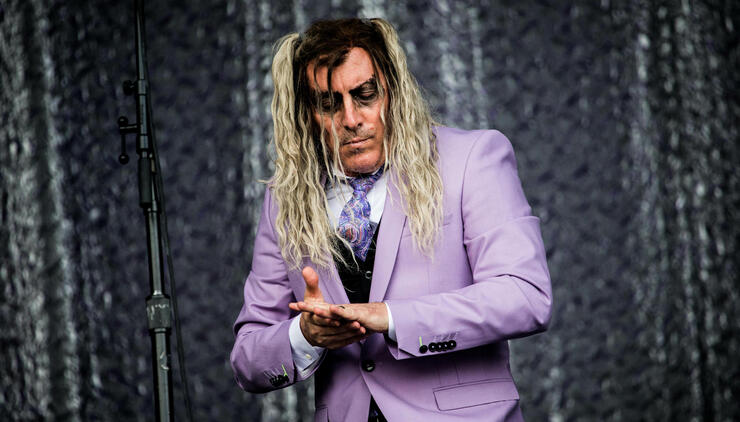 Tool singer Maynard James Keenan says he is relieved to have finally announced the title and release date to Tool's long-awaited new album, Fear Inoculum.
Keenan told Joe Rogan on the latest episode of Rogan's podcast that putting the info out there after so many years of anticipation, rumors and incessant questions from fans felt like a "weight" lifted off his chest..
Keenan confirmed the August 30 release day, announced the album title and added the news that Tool's music is finally going to be available on streaming services at the beginning of the podcast with Rogan. Later in the conversation he took a moment to post the news on the band's social media.
"It took ... that's a lot of work," Keenan said after a heavy sigh. "We are, the four of us [in Tool], are a lot of f---ing work, just to get anywhere, oh my God. ...Everything's a f---ing committee meeting and it always gets shut down."
When Rogan followed up, asking what the hurtles are for a band like Tool, Keenan replied, "Success." He emphasized that he's as much a part of the problem as any of his band mates.
"When you get successful, you think you're right about everything. And you're pretty sure that as that individual, 'I am right and you are wrong because I'm successful and we're successful because of me, not because of you.' It's not that band with us...There's a dynamic of like, 'I want this, and I've always gotten my way and that's why we're successful; because I don't compromise on this or that.' And I'm the same way."
Maynard told a similar story on Rogan's podcast in July of 2017. He added that as the years went by, following Tool's prior release, 10,000 Days, that his band mates also felt pressure mounting, which seemingly mired them in a long cycle of revisions and rewrites.
As the band drew closer to a conclusion, some notable contemporaries like Tom Morello and Behemoth front man Nergal revealed that they were invited to private listening sessions of the new material.
Early in 2018, Tool began recording and Keenan revealed earlier this year that the album was headed to mastering. Late this spring, Tool debuted two new pieces of music and began suggesting the album would arrive on Aug. 30.
Tool has yet to announce a tour in support of Fear Inoculum, but when it does, you can find the tour dates here.
Photo: Getty Images
Chat About Maynard James Keenan Explains Why TOOL Takes So Long To Do Everything