TOOL's New Album 'Fear Inoculum' Has Arrived
By Andrew Magnotta @AndrewMagnotta
August 30, 2019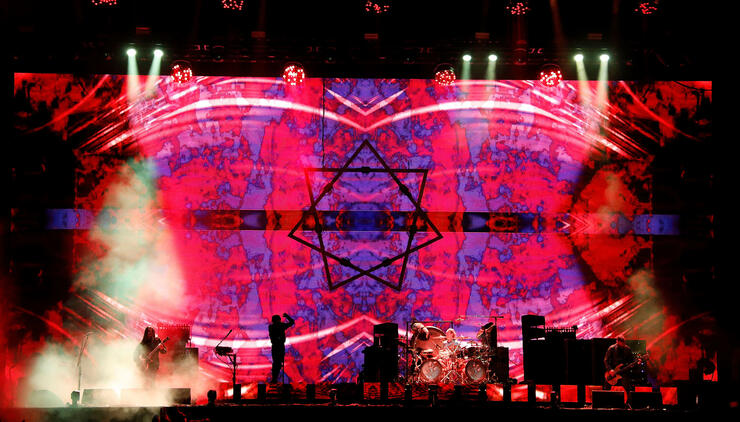 Thirteen years since its last album, and after more than 10 years of writing, Tool has released its fifth full-length studio album, Fear Inoculum.
Tool has long boasted one of the most passionate and robust fanbases in music and the years of mostly unfounded rumors and blaming singer Maynard James Keenan for the delay are finally over.
Keenan said earlier this month that merely announcing the album title and release date, and bringing the band's catalog to streaming services, was "a weight" off of his chest. For someone who's done the bulk of the work answering questions, defending the band and, yes, trolling the fan base's more zealous sects, today must represent some sweet relief.
Guitarist Adam Jones recently lamented the flak directed at Keenan throughout the process, and explained that the entire band "suffered" on behalf of the new album.
Bassist Justin Chancellor has done very few interviews during the process, and drummer Danny Carey once described the songs on the new album as "too long."
While Tool has always put a lot of care into the physical product that goes with its music — and the CD packaging of Fear Inoculum is truly something to behold — this time around the band didn't have much of a choice but to embrace the digital world.
Fear Inoculum is Tool's longest album to date by far, at a sprawling hour and 26 minutes. The album is so long that its three segue tracks couldn't fit on the CD version. The band is supplying download cards for fans who buy the physical album to account for the additional tracks, while the digital version will include all 10 tracks.
The band's fans have already proven that Tool is bigger than ever, and Fear Inoculum is sure to rule the rock charts for the foreseeable future.
All four of Tool's previous albums returned to the Top 20 on the album charts earlier this month. The album's title track became the longest song to ever hit the Hot 100. And Tool also became the only band to ever own each of the top 10 tracks on the rock songs chart.
Even Justin Bieber is a fan!
Begin streaming Fear Inoculum iHeartRadio here.
Chat About TOOL's New Album 'Fear Inoculum' Has Arrived