RUSH's Geddy Lee Says Writing A Memoir Feels "Premature"
By Andrew Magnotta @AndrewMagnotta
October 29, 2019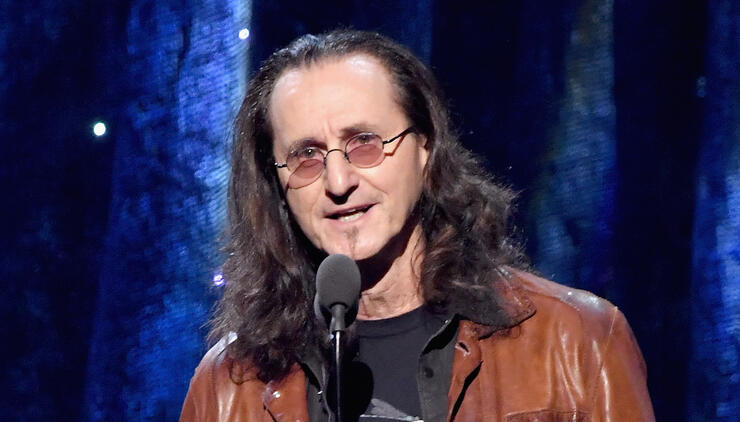 Rush bassist and front man Geddy Lee is not ready to write a memoir, but he's not opposed to the idea.
Lee became a published author last fall when his Big Beautiful Book of Bass was unveiled. The BBoB has been a hit, serving as a photographic history of the bass guitar and showcasing Lee's personal collection of historic guitars and basses.
The Rock and Roll Hall of Famer has resumed his book tour in support of the BBoB. He was recently asked by Bass Guitar magazine if he's preparing to write a more personal tome.
"I don't think my story's done yet," Lee answered. "It feels a bit premature. Maybe I'm kidding myself, but I don't quite feel like I'm ready to do that yet. I have other ideas for books, but they're not autobiographical."
Lee hasn't elaborated on what his other book ideas are. But over the past year, he's repeated his desire to return to music once the Big Beautiful Book of Bass is behind him.
The front man mentioned this past winter that having so many guitars and basses at his home has provided plenty of motivation to play music. He has some musical ideas that he's saved, but he's not sure where they're going.
"I need to give myself time to experiment with that and see what comes out that I feel strong enough to be a worth thing to do next," Lee told Premier Guitar at the time. "I have no idea where that's going to take me."
While Lee has also stated that he misses performing with Rush, he's also said that he likes being based at his Toronto home and not in hotel rooms or on a tour bus.
Rush guitarist Alex Lifeson mentioned this summer during a Q&A with Lee that he looks forward to collaborating with the bassist on new music. Lifeson has previously said that he has little interest in touring again, though he's remained busy contributing to other artists' projects since Rush retired.
Photo: Getty Images
Chat About RUSH's Geddy Lee Says Writing A Memoir Feels "Premature"