New Details Emerge About Missing Monkeys From Dallas Zoo
By Dani Medina
February 2, 2023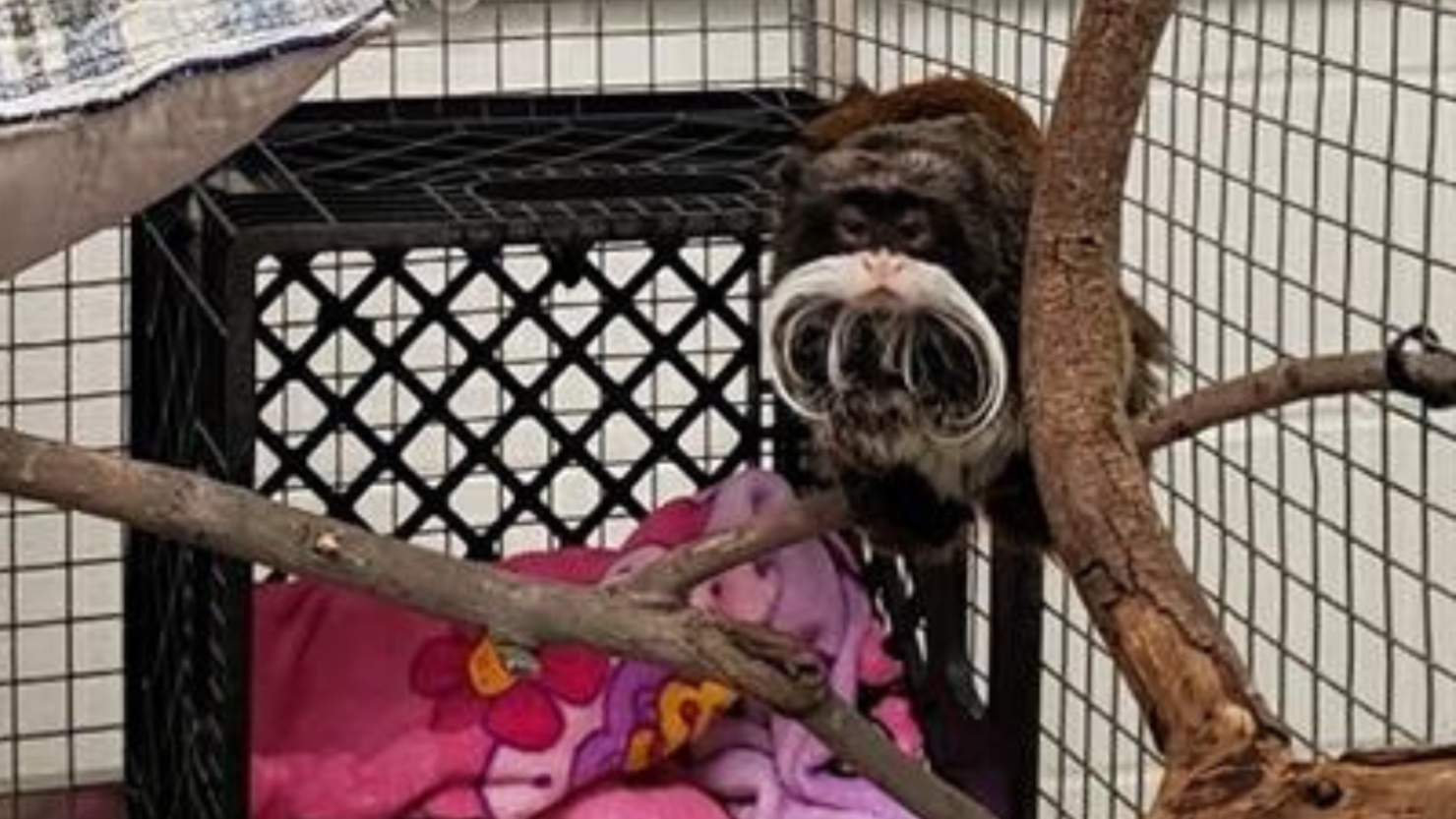 Two emperor tamarin monkeys were reported missing from their habitat at the Dallas Zoo on Monday (January 30). They were found the next day inside a closet of an abandoned building in Lancaster. Now, three days after their disappearance, new details have emerged about their condition and the investigation.
Both monkeys, named Bella and Finn, returned to the Dallas Zoo on Wednesday night and "were so happy to snuggle into their nest sack," the zoo wrote on Facebook alongside a photo of the monkeys. Bella and Finn did lose a "bit of weight," but there are no signs of injury. They also started eating and drinking "almost immediately" after the completion of their health exams on Tuesday night. "We will continue to monitor them closely, but for now, we're so glad they are safe and back with us," the Dallas Zoo wrote.
Bella and Finn won't be returning to their habitat at the Lacerte Family Children's Zoo "because they were taken off-grounds." The zoo said "they will need to clear a quarantine period before they are reintroduced to their Zoo habitat."
"We cannot thank the Dallas Police Department enough for their quick response and assistance in locating the tamarins. We are pleased that video from our surveillance cameras – which we shared with Dallas PD – seems to have been critical in generating a tip that led to the recovery of the tamarins," the zoo said.
Dallas police located the two monkeys inside an abandoned house which was reportedly riddled with animal feces, a room containing pigeons, a water jug containing dead fish and several domestic cats. Police also said the monkeys' enclosure was cut open, so they released a photo Tuesday of a potential suspect who could be involved in the missing monkeys case.
Dallas Police are looking for the public's help in identifying the pictured individual. Detectives are looking to speak with the man in regard to the two tamarin monkeys missing from the Dallas Zoo.
Anyone with information- call 214-671-4509. pic.twitter.com/VVvvHFAdgJ

— Dallas Police Dept (@DallasPD) January 31, 2023
The Dallas Zoo also announced it would be providing a reward of up to $25,000 for any information that leads to the arrest and indictment of those responsible for the incident.
In addition to the reward, the zoo announced it would be improving its security measures since this marks the fourth suspicious incident to occur at the Dallas Zoo in the past month. A hole was found in a fence at a different monkey exhibit days after a clouded leopard went missing from the zoo. An endangered vulture was also found dead at the zoo from "unusual" circumstances.
"Although our security program had worked in the past, it has become obvious that we need to make significant changes. Words cannot express the frustration our team is feeling," the zoo said in a statement, FOX 4 reports. Part of these changes include increased security patrols, more overnight staff, additional fencing and new surveillance cameras added to "challenging" areas.
"Our security personnel, staff, and volunteers all already undergo background checks. The Zoo is evaluating our internal policies and identifying additional partners with whom we will work to further strengthen security measures to protect the Zoo, our animals, our staff, our guests, and our community," the zoo added.