WATCH: Broncos Use Taylor Swift To Troll Travis Kelce, Chiefs
By Jason Hall
October 30, 2023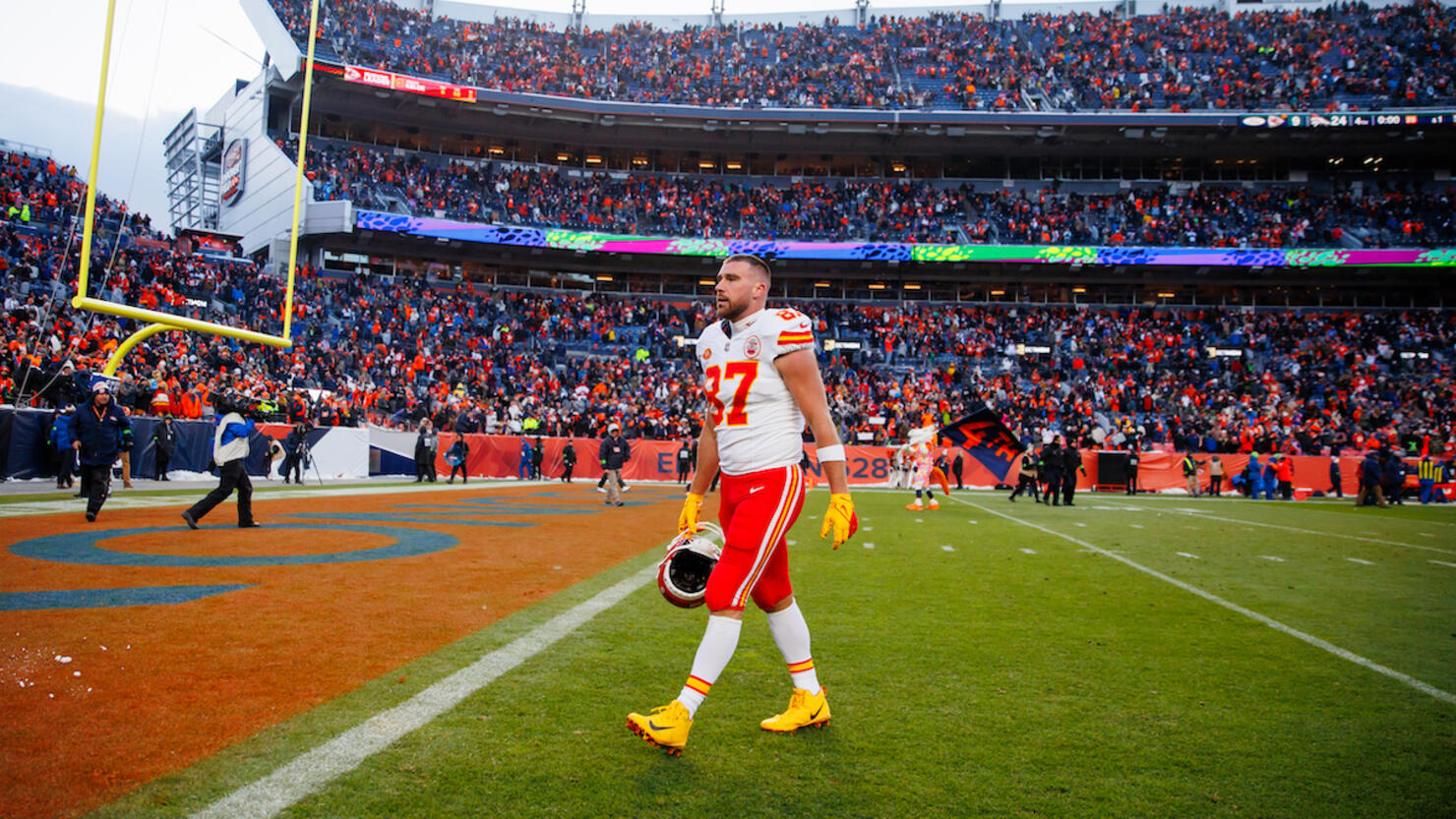 The Denver Broncos appear to have trolled Kansas City Chiefs tight end Travis Kelce after their upset win on Sunday (October 29).
Multiple videos shared online show Taylor Swift's hit song 'Shake It Off' playing from the speakers at Empower Field at Mile High after the Broncos defeated the Chiefs, 24-9, in Week 8. The song's inclusion was an obvious jab at Kelce -- who finished the game with a team-best six receptions for 58 yards -- amid his relationship with Swift.
The singer attended four of the Chiefs' last five games -- with Kansas City winning all four games -- prior to being absent from Sunday's game as she prepares to resume her 'Eras Tour' next month.
Last Monday (October 23), Chariah Gordon, the girlfriend of recently re-acquired Chiefs wide receiver Mecole Hardman Jr. shared multiple photos of herself and Hardman alongside Swift and Kelce after Kansas City's 31-17 win against the AFC West Division rival Los Angeles Chargers, which included one photo of Swift kissing a smiling Kelce on his left cheek, the first time the singer was seen kissing the All-Pro tight end publicly. Multiple commenters acknowledged that Gordon's post "broke the internet" after it was shared.
Swift and Kelce were seen holding hands as the exited Arrowhead Stadium together and drove off in Kelce's Rolls Royce -- which was flanked by Swift's security team -- before celebrating the win at Kelce's Kansas City mansion, which reportedly included food catered by a popular local barbecue truck, the Daily Mail reported.
Kelce recorded 12 receptions for 179 yards and one touchdown during Sunday's win. Swift has attended four of the Chiefs' last five games, all of which the team has won.
Swift and Kelce were previously seen holding hands as they left The Waverly Inn in the West Village on October 15, one night after both made surprise cameos on the 'Saturday Night Live' Season 49 premiere and attended the show's overnight afterparty at Catch Steak together. The tight end was also spotted on the sidelines at MetLife Stadium to support his brother, Philadelphia Eagles center Jason Kelce, during his game against the New York Jets earlier in the evening, which Swift reportedly didn't attend.
The couple was reported to have been seen kissing and getting "handsy" during the 'SNL' afterparty at Catch Steak in the meatpacking district of New York City early Sunday morning.
"Travis and Taylor seemed to really be enjoying the night, and each other, even kissing throughout the night," an insider told Page Six.
Videos shared online showed Kelce and Swift walking hand in hand as they entered the restaurant at around 2:20 a.m. Kelce was reported to have had his hand around Swift's waist throughout the night before both left at around 4:00 a.m.
Both Kelce and Swift made surprise appearances on the 'SNL' premiere, with Kelce making a cameo in a skit parodying FOX Sports' coverage of their relationship and Swift introducing her friend, rapper Ice Spice, who served as the show's musical performer.
Last month, TMZ reported that Swift and Kelce hung out "several times" in a "very private setting" prior to the singer attending three of the Chiefs' last four games.