Did Serena Williams Accidentally Reveal The Gender Of Meghan Markle's Baby?
By Emily Lee
April 8, 2019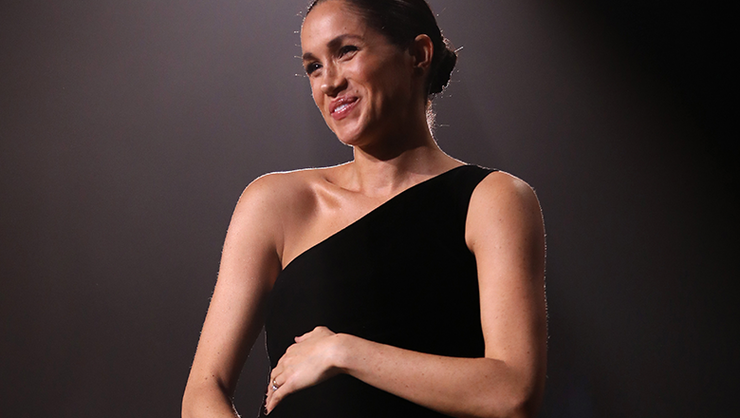 Meghan Markle's due date is just a few weeks away and royal baby speculation is at a fever pitch. Between professional oddsmakers predicting the royal baby's name, royal-watchers wondering if Queen Elizabeth will bestow any titles on the newborn, and curious fans guessing if the baby will have dual U.K.-U.S. citizenship, there's a lot to think about. Meghan's bestie Serena Williams may have revealed another major secret: whether the Duchess of Sussex is expecting a boy or girl.
While chatting with E! News about motherhood advice she gives to friends who are expecting (cough *Meghan *cough), the tennis pro may have had a telling slip of the tongue. "Accept mistakes and don't expect to be perfect. We put so much pressure on ourselves," Serena said. "My friend is pregnant and she's like, 'Oh, my kid's gonna do this,' and I just looked at her and I was like, 'No, she's not.' I'm like, 'No, you're not.'"
Wait, she? It's been widely reported that Meghan and Prince Harry are expecting a boy, however, this may suggest otherwise. Oddsmakers have a track record of predicting royal babies' gender and name a few weeks ahead of their arrival. When a name spikes to the odds on favorite just before a royal's due date, chancers are information leaked from the inside. This is exactly what happened right before Kate Middleton and Prince William welcomed Princess Charlotte four years ago. Just last week, the name Elizabeth spiked to the odds on favorite for Meghan and Harry's little one. Elizabeth hadn't even been in the top five before that.
Whether Meghan is expecting a girl or a boy, Serena said Meghan will "be the best mom, for sure." Maybe Serena will be one of Baby Sussex's godparents? She did throw Meghan a glamorous $200k baby shower, after all.
Photo: Getty
Chat About Did Serena Williams Accidentally Reveal The Gender Of Meghan Markle's Baby?