Julian Edelman Says He And Tom Brady 'Have A Little Beef'
By Jason Hall
December 30, 2021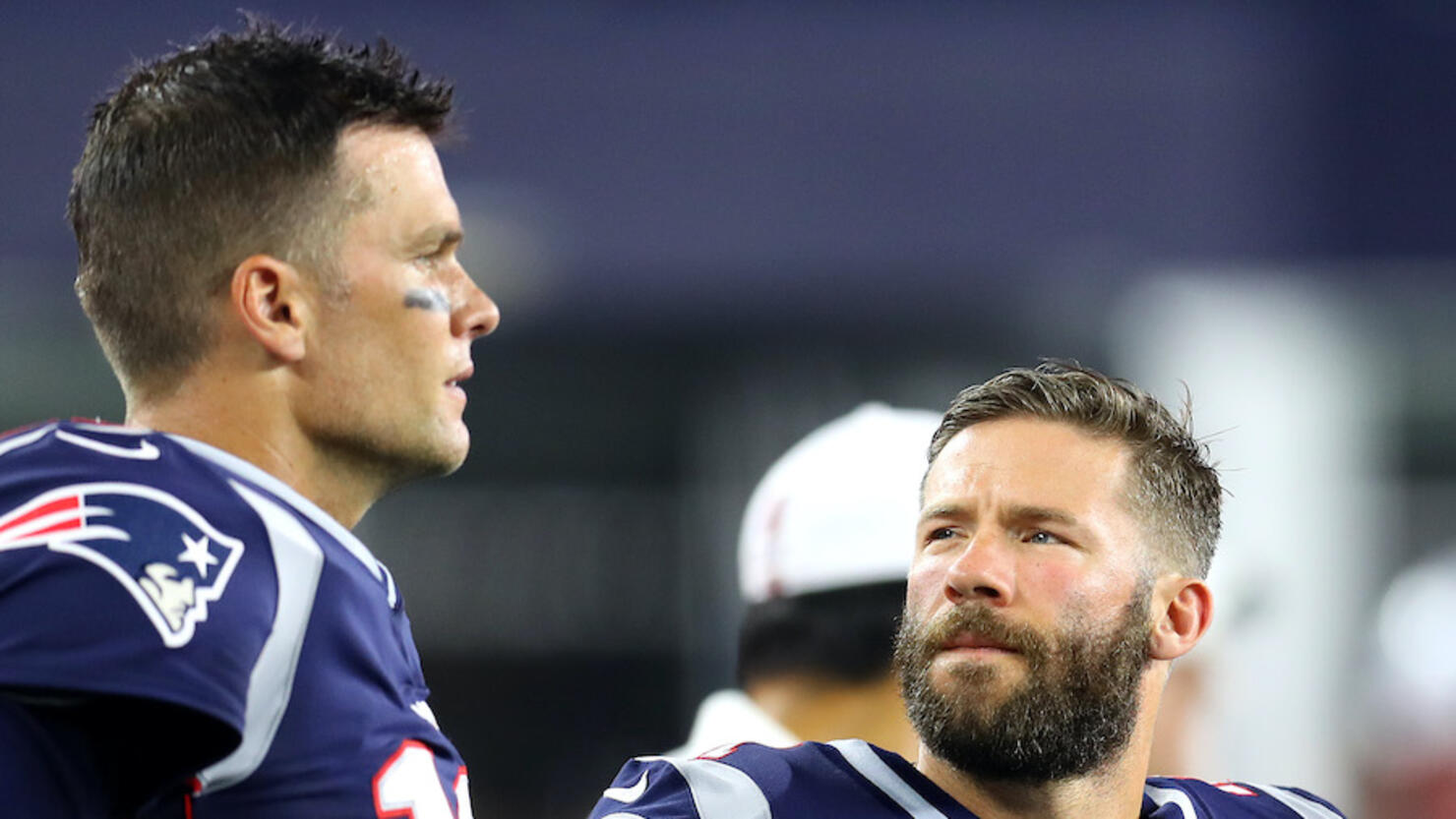 New England Patriots Julian Edelman says he and his longtime friend and former quarterback Tom Brady "have a little beef right now."
The recently retired wide receiver turned NFL analyst discussed Brady's current team, the Tampa Bay Buccaneers, during a segment the Paramount+ series Inside the NFL this week, noting that he didn't "think they're gonna repeat this year" as Super Bowl champions amid a "depleted" roster marred with injuries.
Edelman specifically addressed the loss of fellow wide receivers Mike Evans and Chris Godwin, which prompted co-host Brandon Marshall to ask whether Brady called him to once again fill the role of top possession receiver in Godwin's absence.
"Nah, Tom hasn't called me. And in fact, you know … we have a little beef right now," Edelman said while seemingly holding back a smile via CBS Boston.
"We'll leave it between us. But we have a beef right now. I can't [share what it's about.] I can't kiss and tell! I can't kiss and tell, like someone said," Edelman added while staring directly into the camera and trying to hold a straight face.
For what it's worth, Edelman had previously claimed that Brady not only attempted to recruit him to the Buccaneers, but also wasted little time after making his own decision to leave the Patriots.
"He hit me up the first day he signed there," Edelman told Peyton and Eli Manning on the ManningCast Monday Night Football broadcast in November, which saw Brady's Bucs defeat the New York Giants, 30-10. "He was like, 'You want to come down?' And I was like, 'Uh, absolutely not.'"
Trolling Brady seems to be Edelman's favorite post-retirement activity, as he's gone viral multiple times for jokes directed at his longtime teammate's expense.
In October, Edelman shared a photo of T.J. Detweiler, the main character on the late 1990s animated ABC series Recess, in reference to now Tampa Bay Buccaneers quarterback wearing a backwards hat on during the quarterback's own appearance on the ManningCast edition of Monday Night Football.
"Tom on Manning Cast rn," Edelman tweeted.
In August, Edelman hilariously wished Brady a happy 44th birthday by acknowledging one of the quarterback's few career lapses.
The former wide receiver shared a video on his verified Instagram account featuring an edited version of Brady's viral video showcasing the quarterback playing catch with a jugs machine, throwing two passes into the machine, which shoots them back out before dropping back and firing one las throw through the machine, causing it to fall over and spit the ball back into the air.
In Edelman's video, however, a caption of "*high five attempt*" is placed over the football and "*teammate*" is placed over the jugs machine during Brady's first throw, before a clip of the seven-time Super Bowl champion awkwardly holding up his hand for an unreciprocated high-five from his then-Patriots teammates is spliced in.
The clip cuts back to Brady's game of catch, with the caption "*denied*" placed over the football as it sails back to him.
On the second throw, the caption "*referee*" is placed over the jugs machine and "*high five attempt*" once again over the football, followed by a clip of Brady being denied a high five from a referee during the 2020 season with the Tampa Bay Buccaneers.
Brady then takes a few steps back and fires off a throw with "*birthday high five*" captioned over the football on the throw that caused the machine to topple over, which is followed by a clip of Edelman aggressively giving him a high five on the sideline during their time together in New England.
Edelman captioned the Instagram post, "Will someone give my friend @tombrady a high five today? It's his birthday. HBD bubs 🎂"
Brady had also taken playful jabs at some of his favorite former wide receiver targets, including Edelman, prior to his former teammate's birthday post.
The 44-year-old quarterback shared a video of himself throwing passes to three young boys, who he addresses as "Welker," "Edelman" and "Amendola," in reference to the recently retired receiver and fellow former Patriots teammates Wes Welker and Danny Amendola, all of whom were considered "undersized" by the average standards of the NFL wide receiver position.
Brady finished the video with a shoutout to longtime former Patriots and current Buccaneers teammate Rob Gronkowski, excitedly asking, "where you at Gronk?"
"Great to have Wes, Jules and Danny out in Montana this week! Just missing my tightest tight end @WesWelker@Edelman11@DannyAmendola@RobGronkowski," Brady tweeted along with the video.
Both Edelman and Gronkowski responded to Brady's post, with Edelman quote-tweeting, "This feels like an attack" and Gronkowski replying, "Sorry I couldn't make it, I'm busy tightening up my end even more."
Edelman announced his retirement in April after spending his entire 12-year NFL career with the Patriots, playing alongside Brady every year prior to the 2020 campaign, and ranks second in franchise history for career receptions (620), fourth in receiving yards (6,822) and ninth in receiving touchdowns (36.)
The 35-year-old was part of three Super Bowl teams, including the Patriots' most recent championship, which saw Edelman earn MVP honors in Super Bowl LIII.