15 Incredible Hip-Hop Moments You Might've Missed At Art Basel Miami 2022
By Tony M. Centeno
December 7, 2022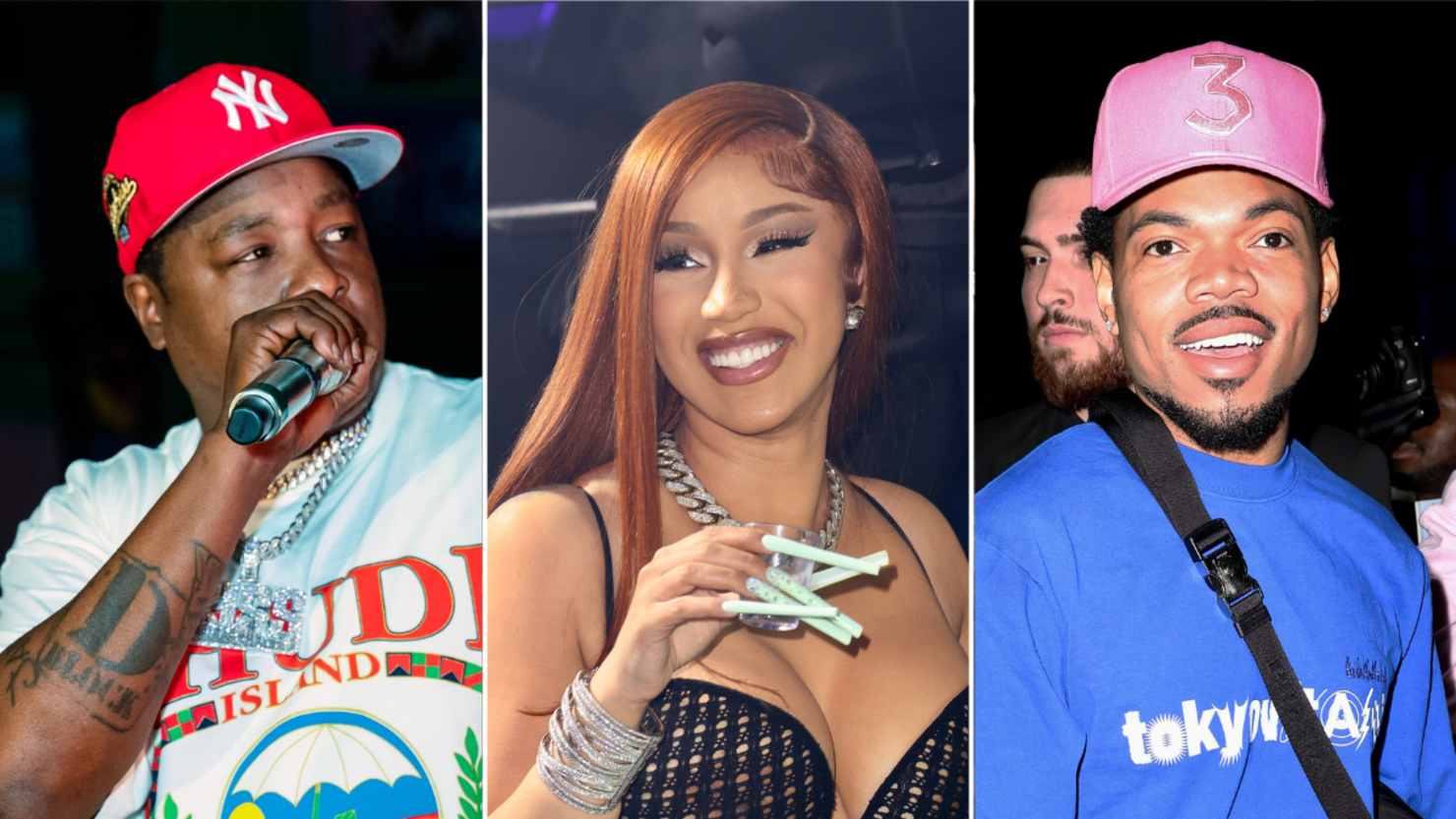 Photo: Luis Vallin/Getty Images
Art Basel in Miami has become the ultimate celebration of all things art that continues to attract some of the biggest names in Hip-Hop.

Throughout Art Basel's 20-year existence in South Florida, numerous rap artists, pop stars and celebrities have flocked to the 305 to join in on the week-long festivities. The week of November 28 through December 4 was jam-packed full of various events featuring top-tier Hip-Hop acts like Travis Scott, Cardi B, 50 Cent, 21 Savage, Westside Gunn, Jadakiss, Curren$y, Chance The Rapper, J.I.D, Flying Lotus and plenty more. Each day consisted of numerous galleries, exhibitions and unforgettable performances that lit up Miami from South Beach to Wynwood.
While some artists like Chance The Rapper and Westside Gunn integrated visual art into their events, others were simply in town to perform. Fans can't get enough of all the raunchy videos from Cardi B's million-dollar set. 50 Cent performed not once but twice at an exclusive mansion party so that the Kardashian sisters didn't miss out. Travis Scott, who also headlined the same party, dominated Miami with a series of performances that fans will never forget.

Naturally, it's impossible to witness all the amazing moments that happened throughout the week. In case you missed out, check out some of the artists who stole the show at Art Basel Miami.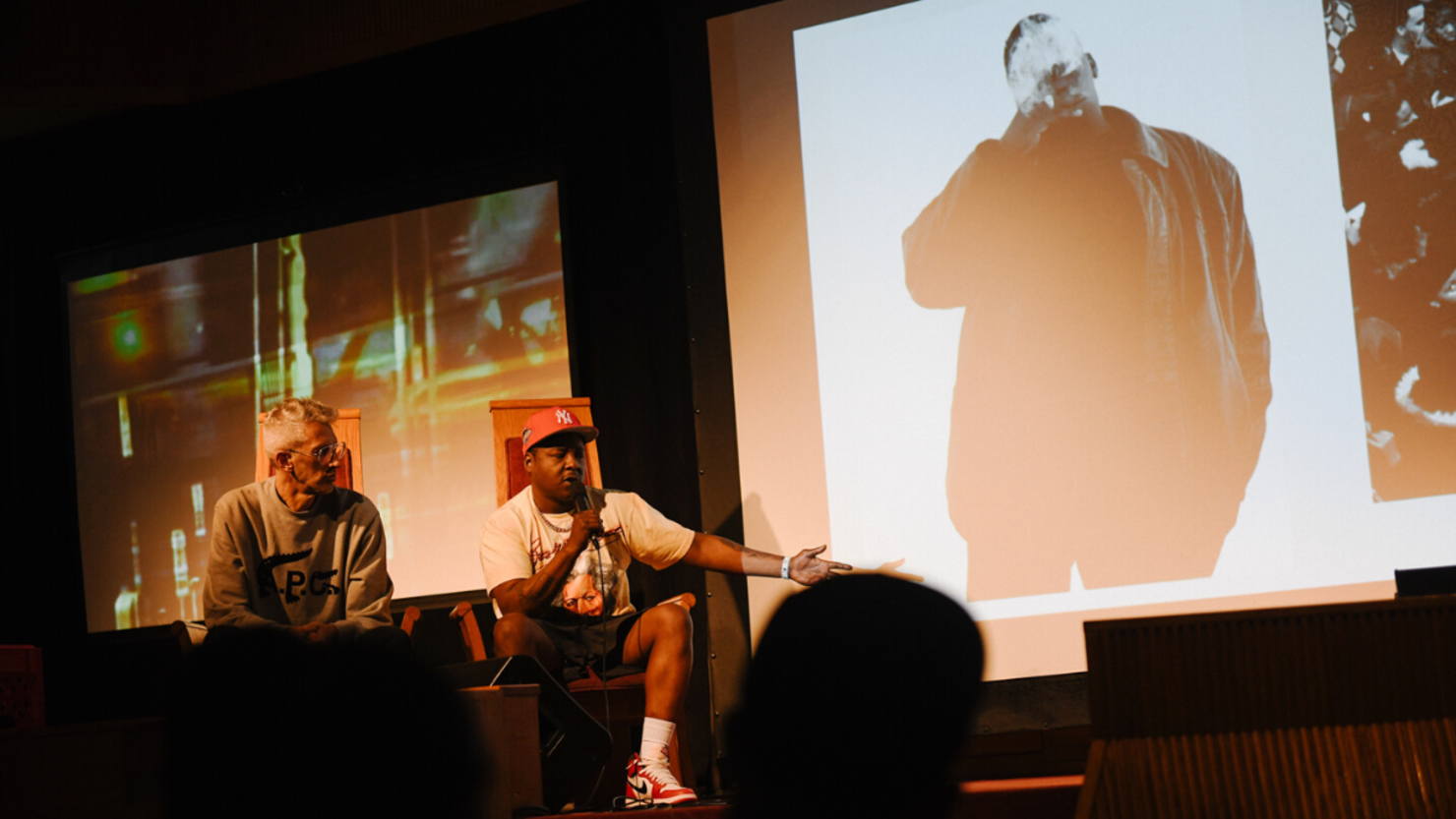 Jadakiss carried the spirit of Hip-Hop with him throughout Art Basel. His first stop was at Fotografiska, Mass Appeal, and Chase Marriott Bonvoy's 'Hip-Hop: Conscious, Unconscious' event in Miami Beach. Held inside the beautiful Temple Beth Shmuel, the event began with a panel discussion of Hip-Hop's roots through the lens of esteemed photographer Sally Berman. The panel was hosted by world-renowned rap historian Sacha Jenkins with contributions from Berman, legendary radio host DJ Stretch Armstrong and 'Kiss himself. The rapper closed out the event with performance inside the temple's synagogue. Two days later, The LOX rapper kicked off Legends Only Basel.

Curren$y, Westside Gunn, Ky-Mani Marley & Inner Circle
Legends Only at Art Basel was a true celebration of the culture's leaders in Hip-Hop and reggae. Held at Skatebird Miami, Jadakiss kicked off the four-night event followed by headlining performances from Curren$y, who recruited Smoke DZA his trusted live band to join him, Westside Gunn, Ky-Mani Marley and Inner Circle. The Buffalo, N.Y. rapper brought his second annual Gunn Basel to the graffiti-covered venue with special appearances from Statik Selektah and more. Ky-Mani Marley and Inner Circle closed out the event with a special reggae night with special guests Maffio, Safaree and others.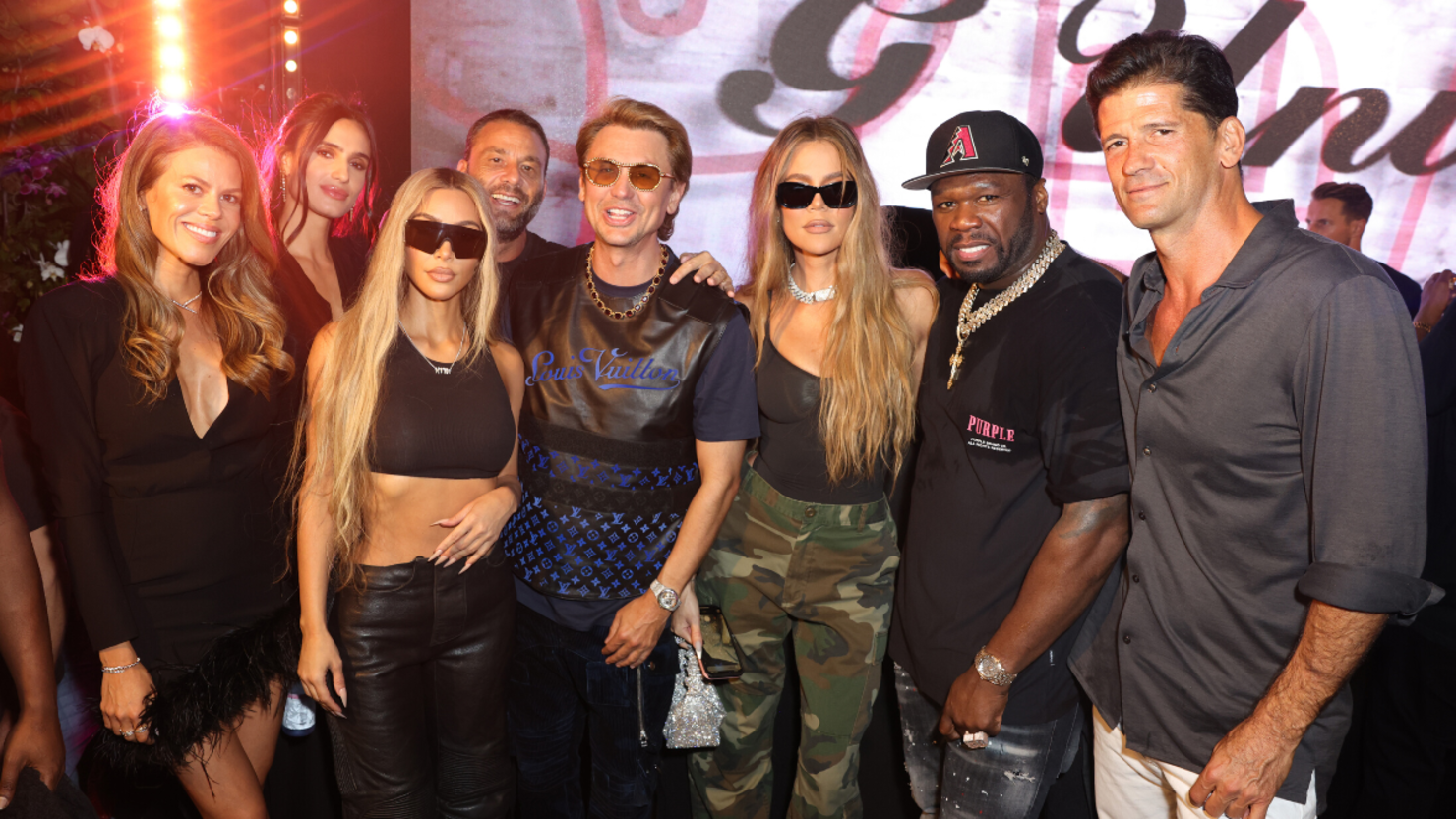 50 Cent also had an eventful Art Basel weekend. The G-Unit founder took the stage at Wayne & Cynthia Boich's private mansion party. After performing his entire set list, he left the stage and passed by Kim Kardashian, Khloe Kardashian and their crew. 50 was so surprised by their presence that he decided to do an encore show just for them.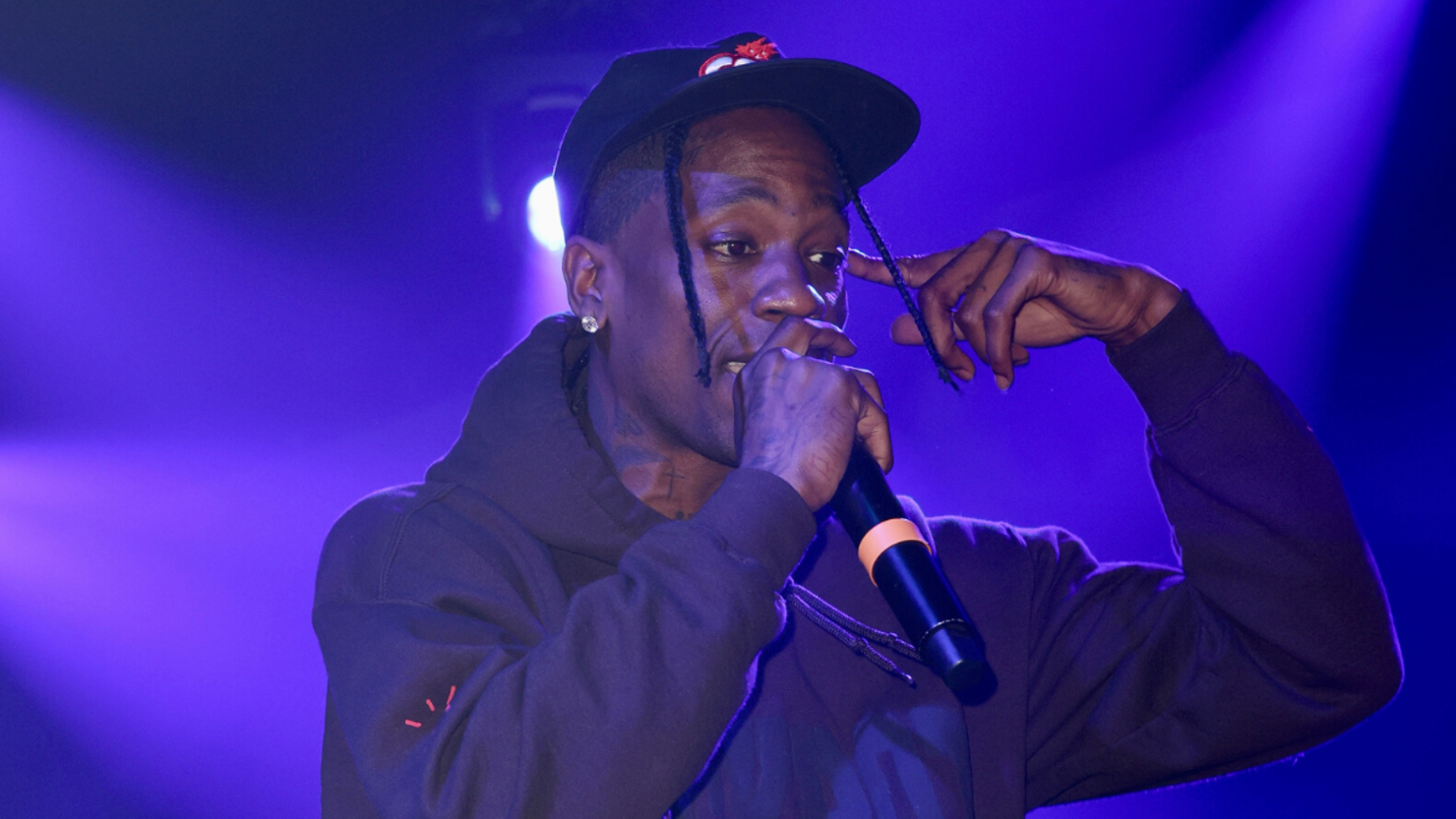 Travis Scott was booked and busy for Art Basel. The Houston native was scheduled to perform at the same party with 50 Cent and at Mirror Mirror Festival in honor of the late Virgil Abloh. He closed out with a huge set at E11EVEN Miami where he delivered fan favorites like "Antidote," "Highest In The Room" and more. One drunken fan got way too excited to see him and actually ran up on stage. He didn't cause too much of a disturbance because Scott encouraged him to take a swig from his bottle of 1942.
Cardi B made some serious money moves during Art Basel Miami. She kicked off her weekend by performing a 35-minute set for a private crowd of bankers and other Chase Sapphire cardholders. She played her hits plus brought out GloRilla for "Tomorrow 2." That set alone earned her $1 million. She spent the rest of her weekend performing at top-notch parties at clubs like Story in South Beach, powered by Varsity Lifestyle Group, and strip joints like Booby Trap On The River.
Diddy had a blast at Art Basel. The Bad Boy founder was the host of various parties at LIV, Headliner's Doo-Wop.. That R&B Thang and Booby Trap On The River party throughout the weekend. While at Booby Trap, Diddy was scene on the club's patio with Bryson Tiller as he showed him how to throw cash up in the air. At one point during the R&B party, Diddy and Yung Miami was spotted in the middle of the crowd living it up with no security, just vibes.
J.I.D, Smino, Armani White & KenTheMan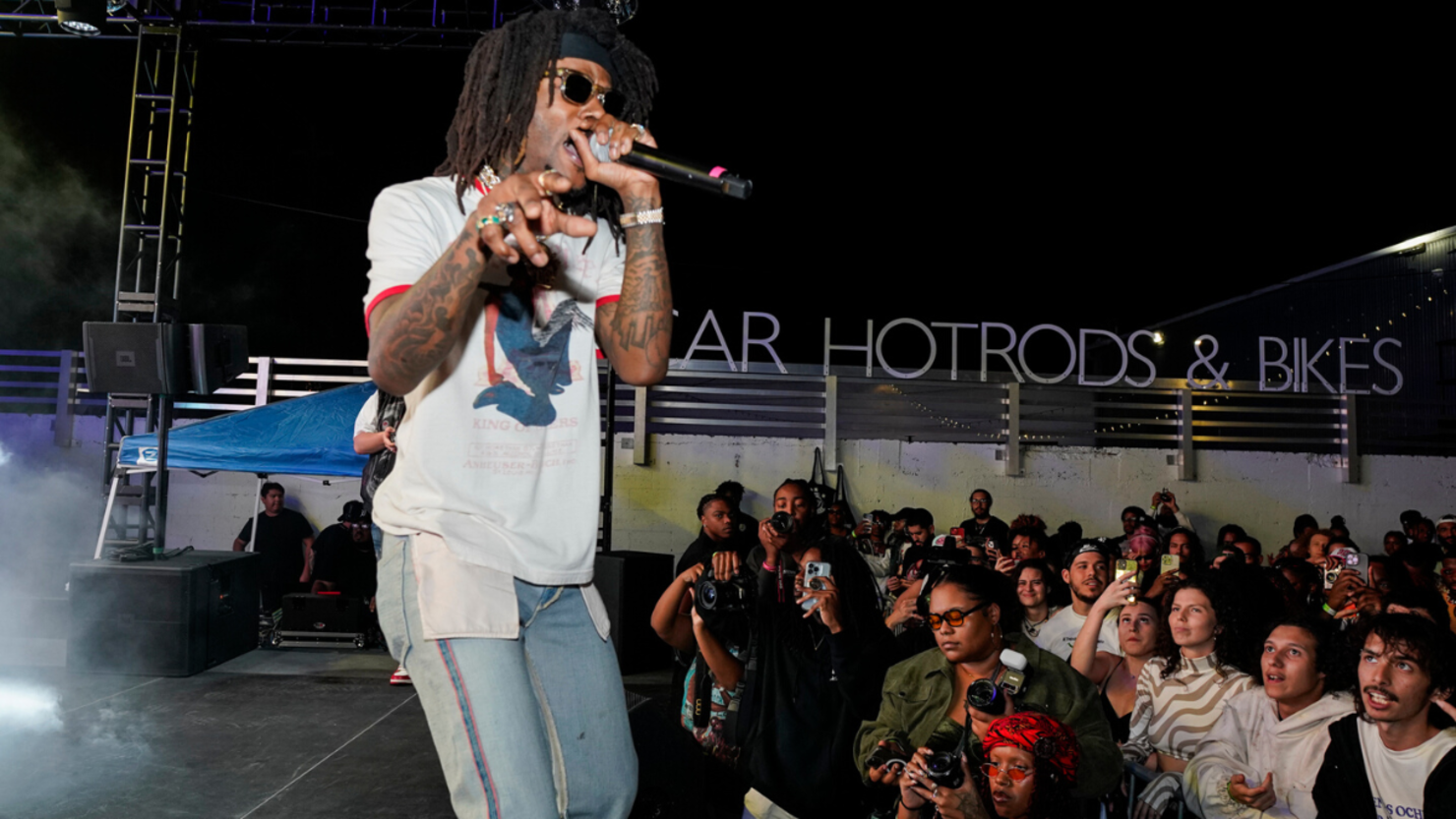 J.I.D invaded Miami's Art Basel week with the help of Armani White, KenTheMan and special guest Smino. The rising rap stars performed during Soundcloud's Next Wav with accompanying sets from DJ Spinelli, Soulcollection's Joe Kay and DJ PeeWee. Before they all hit the stage, art lovers got to enjoy classic pieces from photographer Derick G, who also flicked up anyone who wanted a professional photo. Next door to his photo gallery, Circle House studios along with producers Reazy Renegade, CMG Breezy, Jesus Bobe and DJ Bleu ran the SoundBooth by Denny's. They made music with any artist who was willing to step up to the mic. The event also featured panel discussions hosted by Norma Now with artists from We Good like Ink, Aleicia and Simon Said.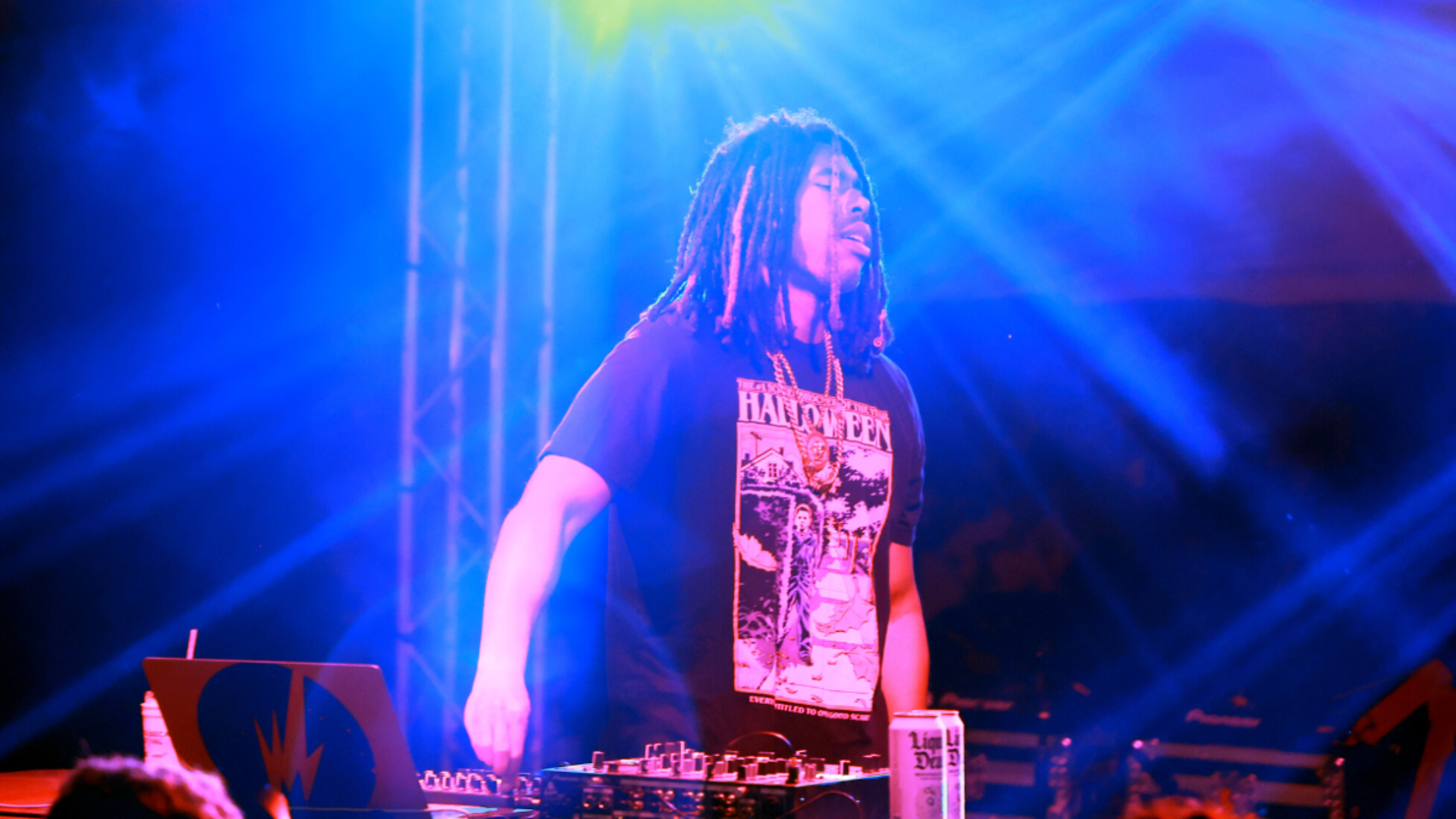 Photo: Arturo Holmes for Audible
Flying Lotus took a different approach to Art Basel. The accomplished artist, DJ and filmmaker hit up Art Basel to promote his Origins episode from Audible with an intimate set inside Understory in Miami's Little Haiti neighborhood. The tropical setting allowed guests to feel like they've stepped into a piece of paradise without having to travel to Miami Beach. They were also able to listen to his Origins story along with other installments featuring Doja Cat, Koffee and others. With drinks and bites floating around the venue, fans were able to enjoy a special performance from FlyLo.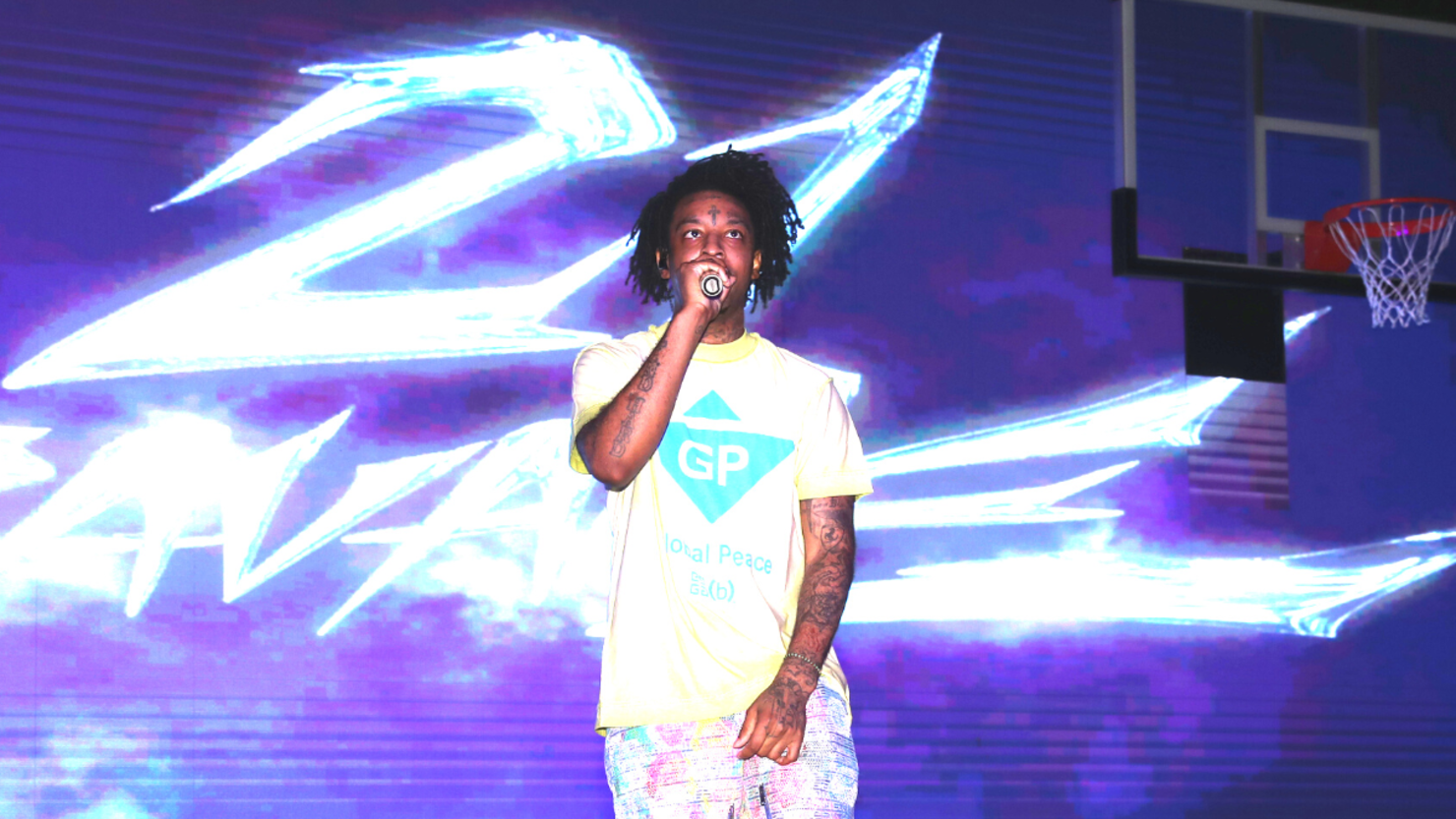 21 definitely did something for the fans as he performed songs off his joint album with Drake, Her Loss, as well as other fan favorites like "Bank Account" and his verse on Drake's "Knife Talk." The Atlanta-based rapper delivered an entire concert from a multicolored LED basketball court in Wynwood. He hit the court after Michelob ULTRA unveiled its 2022-23 Michelob ULTRA NBA Team Cans. Prior to his performance, NBA Legends Alonzo Mourning, Gary Payton, WNBA all-star Nneka Ogwumike and and NBA skills trainer Chris Brickley participated in the Courtside Countdown Challenge while the Miami Heat's DJ IRIE hosted the event and provided the sounds for the night.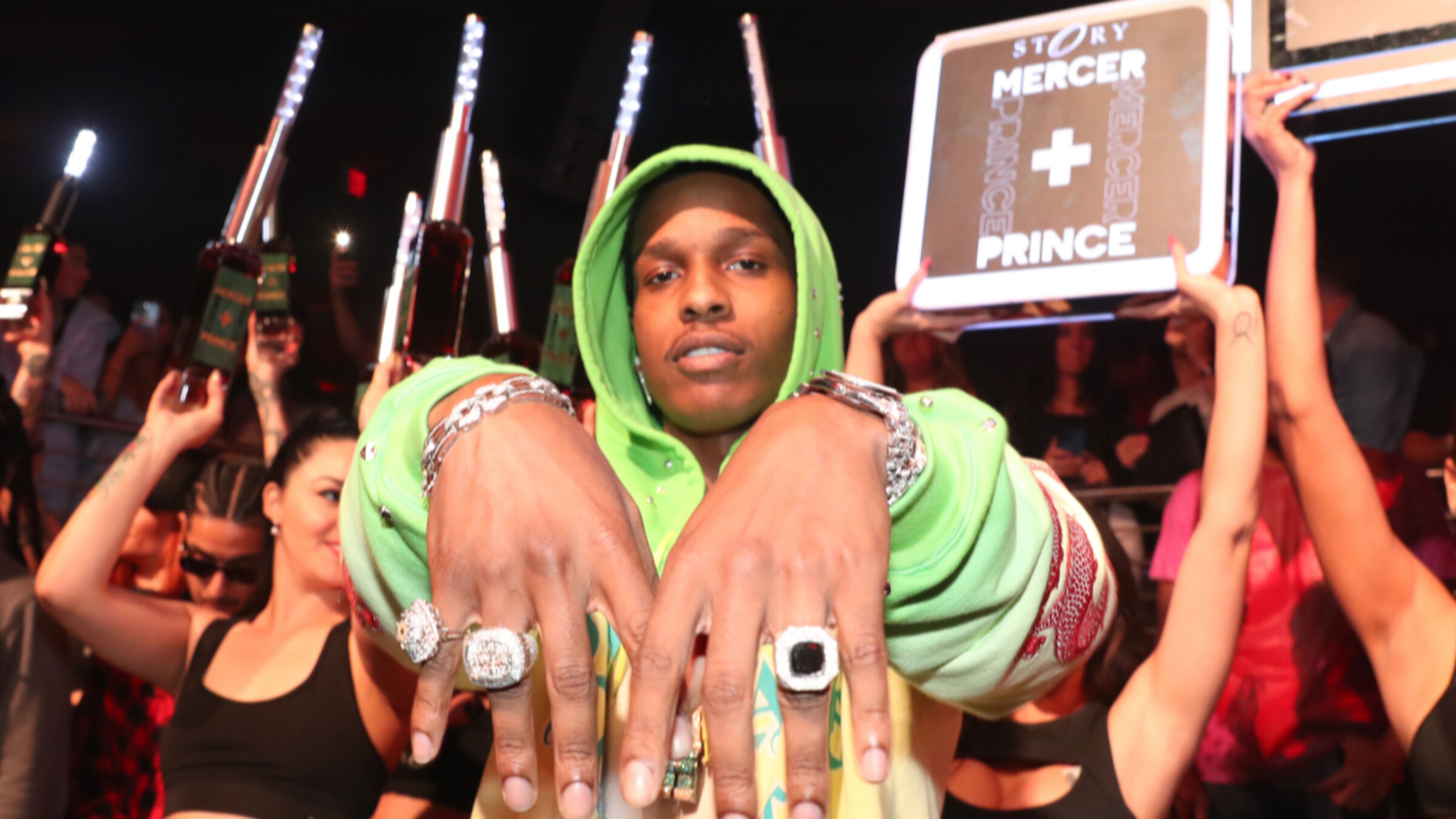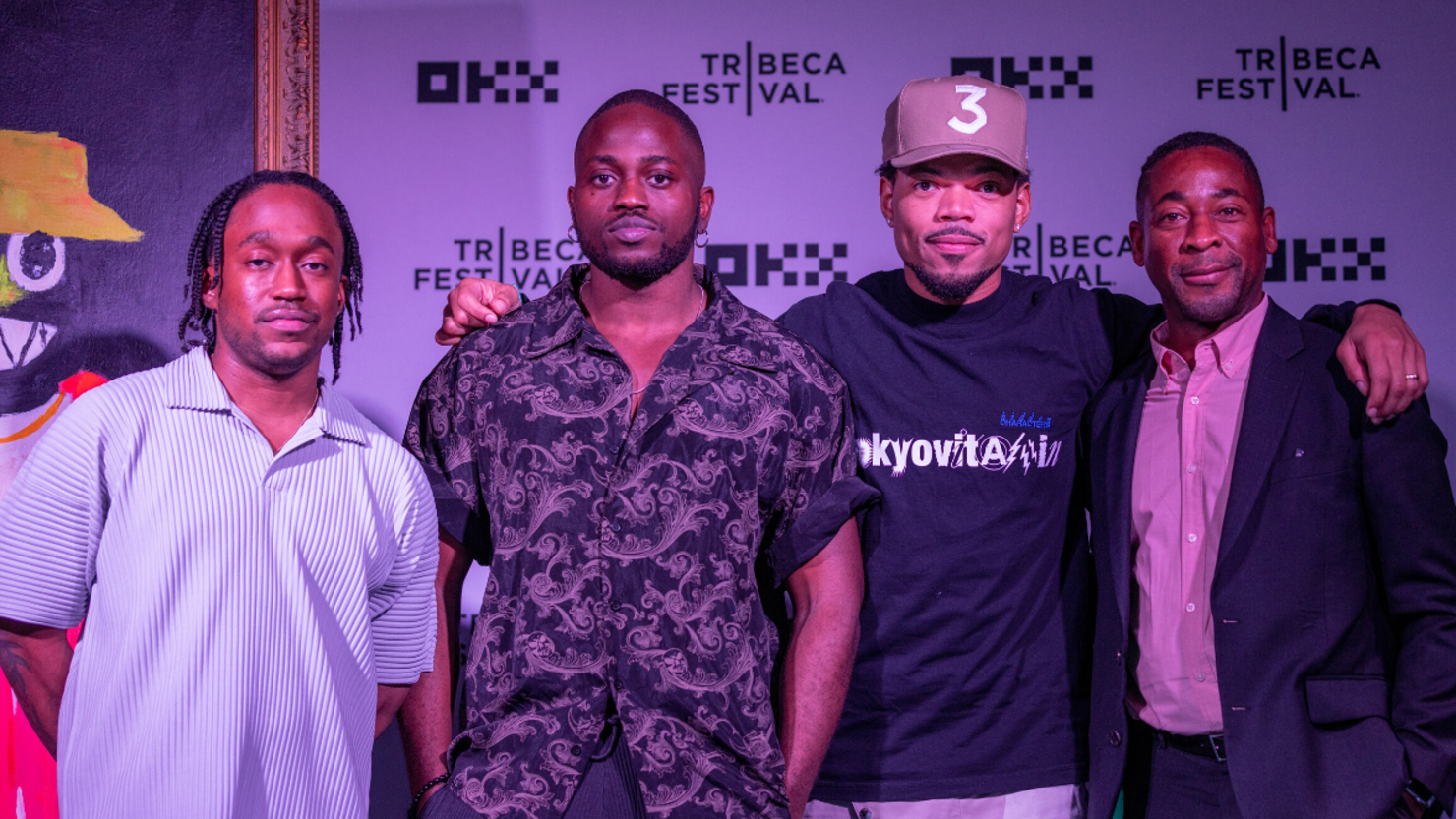 Photo: Shaun McCreedy for Tribeca
Chance The Rapper couldn't miss an opportunity to talk about his upcoming Star Line Gallery album. The Chicago artist flew down to the 305 for a special event at the Tribeca Music Lounge at Understory Miami. During the panel discussion, Chano celebrated Black visionaries with artists Nikko Washington and Yannis Davy Guibinga. He also previewed the upcoming Black Star Line Festival with Vic Mensa in Ghana. Prior to that event, Chance also joined in on another panel discussion during a lunch hosted by CULTURED magazine and Bombay Sapphire at Soho Beach House. He discussed his Star Line Gallery project with fellow collaborators photographer Yannis Davy Guibinga, who contributed to the visuals for "The Highs & The Lows" featuring Joey Bada$$ and visual artist Mía Lee, who's art appears in his latest video for "YAH Know" featuring King Promise.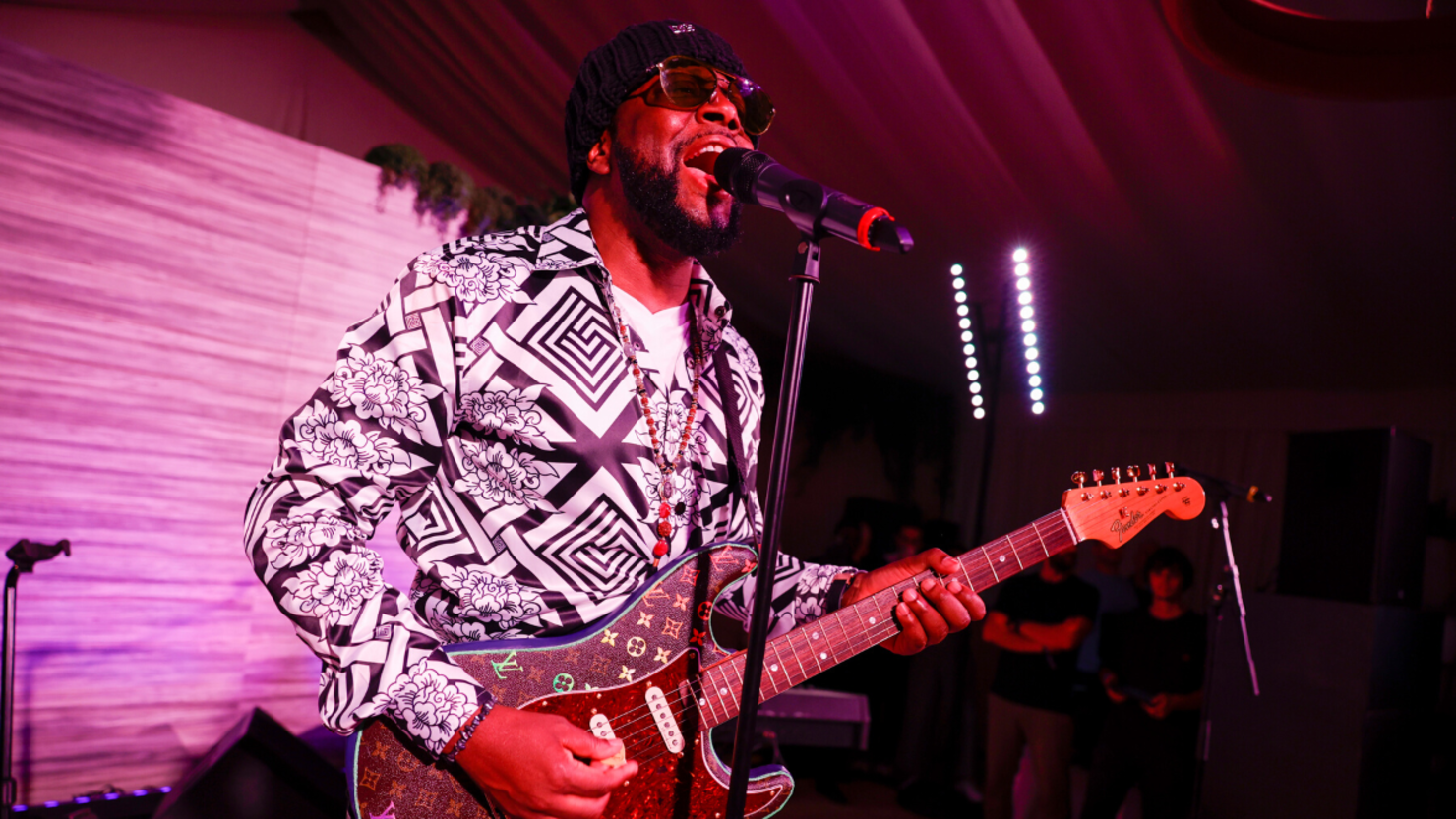 Wyclef Jean made a surprise appearance at Art Basel. The Fugees artist hit the stage at Vibes 305 Basel where photographer Jonathan Mannion with artists Bruno Dede and Claudia Labianca displayed their works of art. In addition to Wyclef's set, the event also featured performances from Bunji Garlin, LS One, Tom Laroc and more. A few days prior, 'Clef also performed during CORE Miami, which was special event to help benefit CORE's disaster relief efforts at Soho Beach House in Miami Beach.
Flo Milli made an impact at Art Basel by debuting a rare Cheetos-inspired sneaker with designer Whitney House. Thanks to Rock The Bells and Cheetos, House was able to link up with the Alabama native to customize a pair of shoes. The shoes were revealed at Yacht The Basel. Their annual event was full of unique art and vibes from DJ Epps, Nyla Symone, Sachisounds and the legendary Mannie Fresh. Flo Milli also hit the stage in front of a massive crowd at the top floor of a yacht in Downtown Miami.
Pharrell was at the Billionaire Boys Club's flagship store in Wynwood to celebrate the release of his brand's collaborative capsule with graffiti artist Todd James. They hosted a panel discussion with James to talk about the unique collection. During the event, the super producer's non-profit organization Black Ambition also awarded $20,000 to three entrepreneurs innovating in digital wearables. BBC/Ice Cream closed out Basel by displaying all the elements of the capsule at a huge party inside the store with drinks courtesy of Remy Martin.
You already know N-O-R-E had to get into the mix of Art Basel. The Drink Champs host was a keynote speaker at the VIP Opening Reception of The Fearless Artist's TFAPOPUP 2022: The Liberation of Beauty. During the event, the veteran MC sat down for a chat inside the gallery that featured 37 emerging and established visual artists. See what he had to say about art above.