Lil Nas X's Adorable Reaction To Meeting Anne Hathaway Is All Of Us: WATCH
By Dani Medina
March 11, 2023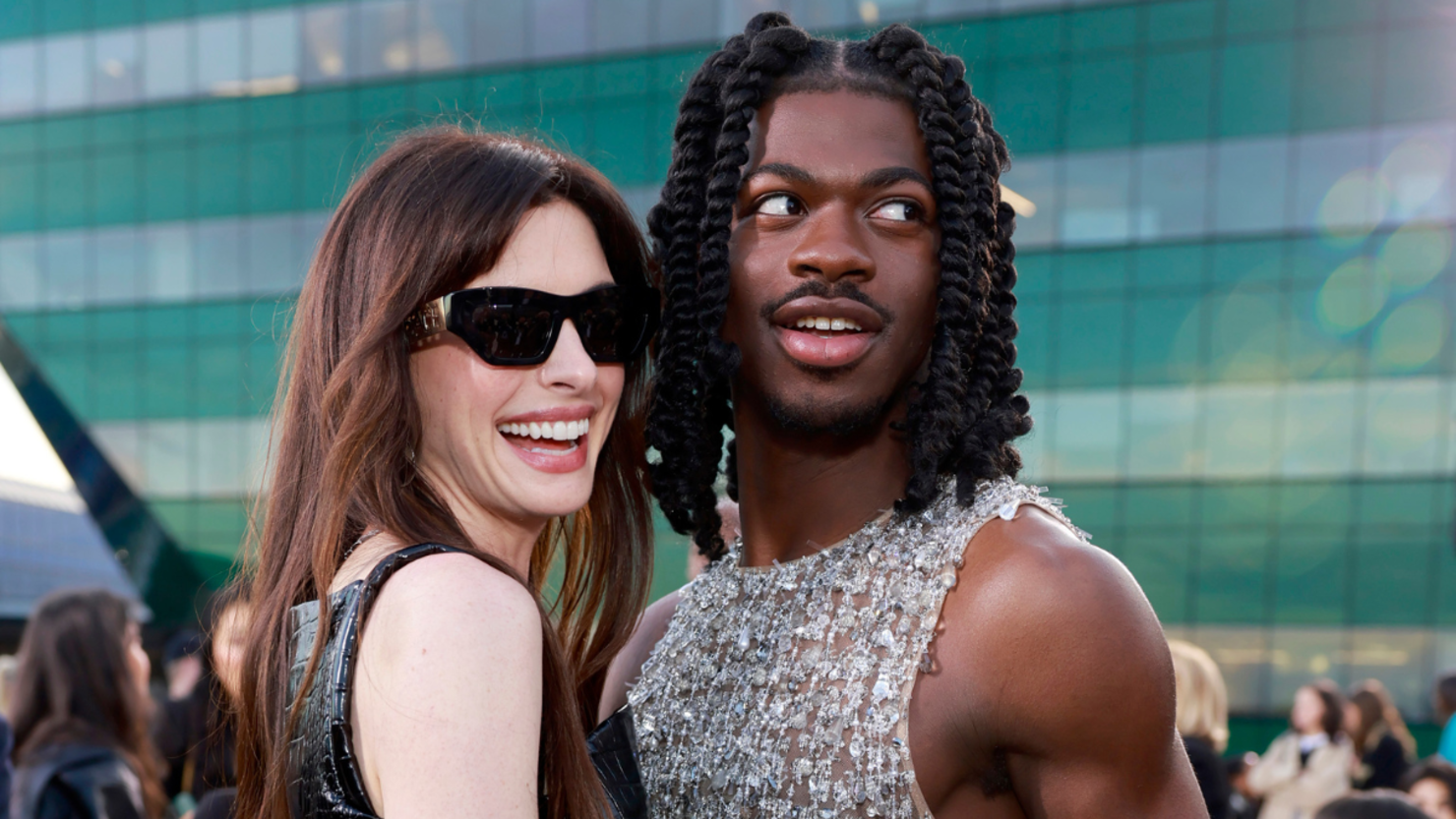 Lil Nas X is all of us when it comes to meeting our idols!
The Versace fall 2023 show in Los Angeles on Thursday (March 9) was a star-studded event on — Gigi Hadid, Kendall Jenner and Emily Ratajkowski all walked in the show — and off the runway as celebs from Miley Cyrus and Elton John to Dua Lipa and Cher were in attendance. While there were several viral moments from the fashion show, including an iconic photo of Sir Elton, Miley and Lil Nas X, it wasn't until after the show that the "INDUSTRY BABY" rapper lived out a childhood dream of his.
Lil Nas X met the Mia Thermopolis Amelia Mignonette Thermopolis Grimaldi Renaldo, Princess of Genovia! His meeting Anne Hathaway was caught on camera and it's the sweetest video you'll watch today, guaranteed.
"I'm so happy you know who I am, I can't believe you know who I am," Lil Nas X tells Hathaway as photographers pose them together for a photo. Anne even complimented his outfit, a crop top with crystal embellishments, leather skirt and knee high boots. "This old thing?" the rapper told her.
Before saying their goodbyes, Lil Nas X shared a sweet message with The Devil Wears Prada star. "Oh my God, it's so amazing to meet you. Thank you so much for everything that you've done. Oh my God, I wish you. nothing but more love and success in the future," the "MONTERO" rapper said as he held hands with Hathaway before parting ways.
The video of their encounter, shared by Karla Martinez de Salas, head of editorial content at Vogue Mexico and Latin America has gone viral, with nearly 1 million views. Users in the comments don't blame Lil Nas X for his fangirling moment whatsoever.
"Y'all saying he's starstuck like of course he is he's literally meeting THE princess of Genovia," one user wrote.
"Lil nas x is truly one of those people that deserved to be famous, so happy for him," said another.
"King respects queen," said another user.
Watch the viral TikTok and see more photos from the Versace show below: