Kanye West Disses Pete Davidson: 'How Those Tattoos Of My Kids Doing?'
By Dani Medina
September 3, 2022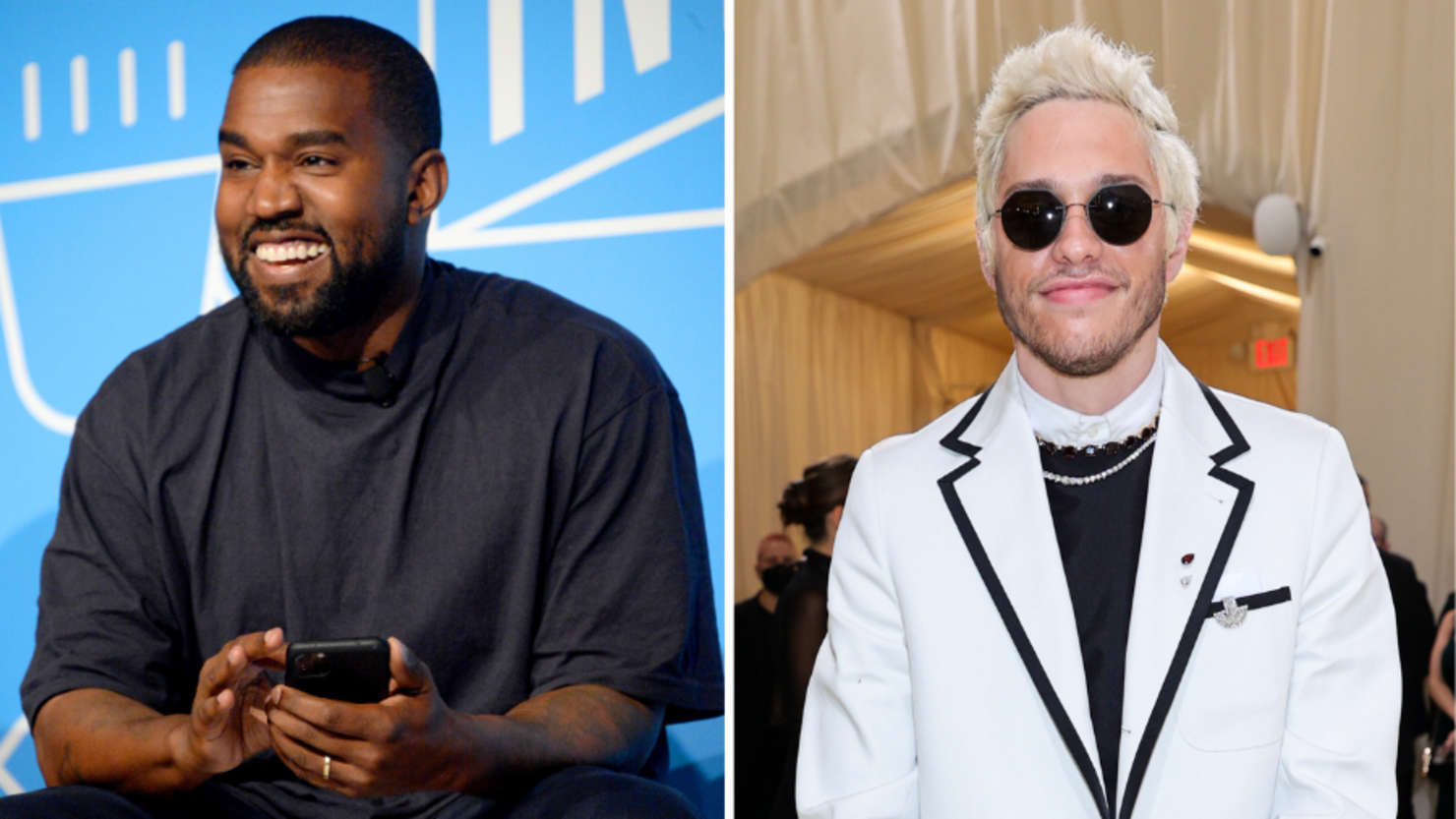 Kanye West strikes again.
The 45-year-old rapper took to Instagram this weekend in a series of now-deleted posts to air his grievances with Pete Davidson, Kris Jenner and Kim Kardashian. He also called out Tristan Thompson and Travis Scott, as well as Yeezy, Adidas and Gap.
Let's break it all down:
Parenting differences
Ye posted a series of iMessage screenshots between him and what appears to be ex-wife Kim. "My kids going to Donda. They not going to Sierra Canyon. Charlemagne the God and Kris. Get your motherf------ popcorn," one post said.
Another post showed an incoming message that reads, "Can u please stop," to which Kanye replied, "No. We need to talk in person. You don't have say so of where the kids go to school. Why you get say say. Cause you half white?"
Yet another screenshot shows a message sent to him: "From my mom- PLEASE. 'Tell him to stop mentioning my name. I'm almost 67 years old and I don't always feel great and this stresses me to no end.'" The message is likely referring to Kardashian matriarch Kris Jenner, whose 67th birthday is in November. Kanye replied, "Y'all don't have so so over my black children and where they go to school. They will not do playboy and sex tapes. Tell your Clinton friends to come get me. I'm here."
He then shared a separate post of white text on a black screen that says, "I'm the kids father," with the caption, "Imagine not having any say so on where your kids go to school." A second post reads, "I won't stop until I have a say so on my kids no matter what it legally takes." He captioned it, "Come and get me. I'm a man of God. The fathers job is to be the bad guy some times. So Trevor Noah come speak on my family so I can be the bad guy."
Kanye West reveals porn addiction and claims porn destroyed his family in a series of Instagram posts. He also calls out Pete Davidson, Adidas and Gap, and refers to himself, Travis Scott and Tristan Thompson as "cum doners" [sic]. (1/3) pic.twitter.com/pYr0mVW1On

— No Hipsters Pod (@NoHipstersPod) September 2, 2022
Family's "porn addiction"
Kanye not only mentions Playboy and sex tapes in his texts to Kim, but shared a screenshot calling out Kris Jenner.
"Don't let Kris make you do playboy like she made (Kylie) and Kim do. Hollywood is a giant brothel. Pornography destroyed my family. I deal with the addiction. Instagram promotes it. Not gonna let it happen to Northy and Chicago," Kanye said.
Another Skete feud
In a post, Kanye wrote, "Ask Pete how those tattoos of my kids doing in the trauma unit."
The "Homecoming" rapper is referring to Pete's tattoo which says, "KNSCP." These are the first letters of the names of Kim K's children, North, Saint, Chicago and Psalm. Throughout Kim and Pete's seven-month relationship, the comedian made headlines about having several tattoos dedicated to the SKIMS mogul. "My Girl Is A Lawyer" is among these tattoos, plus a branding that says "KIM."
Davidson "has been in trauma therapy" since April "in large part" of Kanye's social media posts. "The attention and negativity coming from Kanye and his antics is a trigger for (Pete), and he's had to seek out help," a source told People. After his recent split from Kim, the source said he "has no regrets for dating Kim and wants it to be made very clear that she's been nothing but supportive of him throughout their relationship." They added, "Moving forward he just wants to focus on his career."
Sperm donors
Ye also called out other Kardashian-clan fathers, Tristan Thompson and Travis Scott, who are fathers to Khloe Kardashian and Kylie Jenner's children, respectively. "Calling my fellow c-m doners (sic). We in this 2gthr," he captioned a photo that says "Tristan Trav Scott" across a black background. In the same post, he shared a screenshot of a Google search for "c-m donors."
In a separate post, Kanye says Travis Scott is the only "brother" he's ever seen stand up to Kris Jenner.
It's just business
Kanye West also addressed some business matters in his Instagram rant. He recently has come out saying his business endeavors are holding meetings without him. Now, he's airing them out online.
"Today is about control. MY KIDS. YZY ADI. YZY GAP. It's up on all 3 of these issues. At the same time. Cause it's all the same mentally that makes these people feel they can keep getting away with things," he wrote.
'I'm not spiraling'
The "Bound 2" rapper wrote another post, reassuring his followers he's not spiraling amid the social media spam. "Anybody that says I'm spiraling when I express the undeniable truths is a sheep. STFU and worry about you're (sic) own kids. I obviously am dealing with wars at the highest levels of control and discrimination based on the level I'm operating at," Ye writes.
He continues, "A conductor gotta turn they back to the audience to direct the orchestra. Oh Ye crazy. Is basic as f--- at this point. I'm simply right. I know girls who sell p---- that don't agree with how my daughters are displayed."